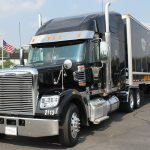 February 15, 2018 11:09 am
Comment
Truck drivers are an essential part of the shipping industry and moving America forward. Transporting goods and materials to all sorts of locations is a highly meaningful task and truck drivers make it happen. Becoming a professional driver for Smith Transport offers a lucrative salary, benefits package, access to some of the best equipment on the road today, and freedom for those who love being on the open road.
For new drivers just breaking into the industry, there is a lot to learn. Sometimes it can be scary and intimating starting a new job, but that's okay! If you're in the beginning stages of your trucking career or looking to make a career change towards trucking, there are ways to prepare for this exciting time. Smith Transport is here to give you a few tips that will be helpful when first starting off as a driver:
Trucking School Tips 
For those who are in their career-planning stages, look into truck driving schools that best fit you and the requirements/standards you're working towards. Taking the time to explore school opportunities will ensure you choose the right place for you and your career goals.
Truck driving schools with accreditation by the U.S. Department of Transportation offer scholarships, grants, and loans that can help you offset the cost of education. If this is something that interests you, do some research to see what you could take advantage of.
Be sure the school courses you select will prepare you for the CDL you desire, as there are different types of CDLs and different add-ons like hazmat or double- and triple-trailer certifications. Take some time to research the CDL process and the trucking industry online and you'll have a leg up as you enter school.
Once you have graduated driving school and you are officially behind the wheel, keep these words of advice in mind:
Fuel Saving Tips
Maintain a consistent speed, use cruise control when appropriate, and avoid quick accelerations to save fuel.
Pay attention to how cargo is loaded. The higher the height of the load, the more drag placed on the truck and the more energy it consumes.
Plan your route to avoid traffic congestion to reduce idling (idling can be a big fuel waster.) Idle reduction facilities are also available at many public truck stops.
Safety Tips
Maintain a respectable distance from vehicles in front of you since larger trucks need more time to stop. Keep an eye out for other vehicles, stay alerted to your truck's blind spots and always be aware.
Pre-inspect your truck before going out on the road. Check your breaks, windshield wipers, horn, mirrors, tires, reflectors, oil levels, fuel levels, and that cargo is secured. If any problems are noticed, they should be reported to dispatch and handled prior to driving.
Slow down when entering a work zone, adjust mirrors and allow plenty of room to maneuver.
Other Trucking Tips
Maintain good physical health. Regular exercise and adequate sleep will help you avoid fatigue when driving long stretches of highway and loading and unloading cargo.
A long and successful truck driving career is dependent on a new driver's work ethic. Keep an excellent driving record, increase communication skills, and strive to incorporate responsibility and organization into your everyday duties.
While modern electronics and GPS have made things easier in today's society, it's important to be well versed in navigation. Study up on compass direction and maps.
And the Best and Easiest Tip of All…
When it comes to moving freight in North America, trucking is king. It's a thrilling, influential and profitable profession. If you're called by the allure of steady work and the opportunity to hit the open road, then applying is your first step.
When driving for Smith Transport, you can choose from a number of open positions. Smith Transport is a trucking company unlike any other. We treat our employees like family members and take pride in taking good care of all of our employees. If you're looking for a career that not only pays well, but is also enjoyable, come join our elite fleet!