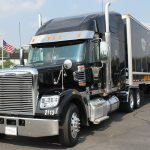 January 19, 2018 4:27 pm
Comment
America doesn't move without trucks and truck drivers, and we don't move an inch without fuel. As we all know, fuel has an incredible impact on our industry, affecting our bottom lines and influencing near-constant innovation in efforts to save the stuff. But that precious diesel can also affect your day on the road in ways that some – especially newer drivers – may not consider. Today at Smith Transport, we're talking weight.
The weight of diesel is just a touch over 7 pounds per U.S. gallon. That can change a bit based on the temperature and its effect on the density of substance in the tank, but 7 pounds is a widely accepted benchmark for day to day needs. So, let's say you're an over-the-road driver running twin 150-gallon tanks under your bunk. In this scenario, a fill-up will add roughly 2100 pounds to your total weight.
What this means is you need to take your fuel into consideration before you load up and hit the scales. If you add more than a ton of weight after pushing your gross weight to the limit, there's a good chance you'll encounter a costly surprise at the next weigh-in. For this reason, you may also want to delay a fill-up until after the scales when possible.
Now once you've reasoned that you'll weigh in within the legal limits, be sure to take just a few minutes longer to consider where you're putting those pounds. The position of your tank will affect which axle(s) shoulder the burden most. Generally, long-hood trucks tend to carry fuel weight closer to the drive wheels, while cabover rigs may place more heft on the steering axle. Knowing where your truck disperses the load can help you avoid coming in under the gross limit, but over the mark for a particular axle.
You can pretty much compare watching your fueling practices to keeping an eye on your own personal weight. Eat too much or at the wrong times, and you may get heavier than you'd like. Carry those extra pounds in the wrong places, and you may attract unwanted attention. Makes sense, right?
With a little planning and consideration, your diesel will keep you on the road and in the green, not collecting tickets at the scales.
If you'd be keen to learn more about a rewarding career in trucking, like joining Smith Transport's elite fleet, get in touch with our recruiters at 866.265.3718 or explore driver jobs now.
And while you're at it, get to know us and give us a follow on Facebook and Twitter!