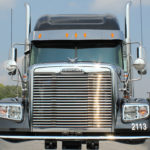 October 24, 2017 9:02 pm
Comment
Did you know nearly three quarters of freight moved in this country goes by truck? How about that our industry employs over 3.5 million professional drivers? Pretty amazing numbers, huh? There's no doubt that the trucking industry keeps America running. But what about the professionals behind the wheel of those rigs? What keeps them on the road?
The career of a truck driver is one that offers numerous perks – some that you may not have thought about before.
First, the pay is better than you might expect. Like many jobs, you do have to put in your time at first, but compensation bumps up pretty quickly. In 2013, the median pay for drivers was around $46,000 per year. Specialized drivers earned more, and drivers for private fleets made roughly $73,000 per year. In addition to that cash, most trucking companies offer benefits packages including paid time off, matching 401(k) retirement plans, and valuable health insurance policies. (Check out Smith Transport's fantastic benefits.)
And remember, earnings have gone up from these rates during the past few years. Many carriers are finding a shortage of experienced drivers, so they are willing to pay to get safe, professional drivers on the road.
Beyond compensation, trucking is a secure job. As we mentioned above, the majority of goods in the United States are moved by truck. There's simply no more versatile, safe, or cost-effective way to get it done. That means careers in trucking (and your paycheck) will be around for many years to come.
Intangible benefits are important to note as well. Many truck drivers will confess their love for traveling – especially those that run long-haul trips. There's something adventurous about cutting across the country and taking it all in. And while you're at work, your office is your own. You don't need to sit through pointless meetings or play email hot-potato. Fasten your seatbelt, cut on the radio, and hit the open road. There's far less office drama when you're the king of a big rig!
If you're interested in learning more about these sorts of day-to-day perks, see this great article complete with feedback from real truck drivers. What sounds good to you? Tell us in the below comments!
And for those of you interested in joining our elite team—and hearing about our brand NEW PAY PACKAGE effective September 8th—send us an email at smith-recruiting@smithtransport.com, or give our recruiters a call at 866-265-3718. Ready to fill out an application? You're only a step away. We look forward to hearing from you!
For more industry tips, news, and how-to's, stay tuned to the Smith Transport blog. Be sure to also join the conversation on Facebook and Twitter!