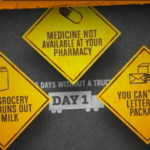 August 11, 2017 3:58 am
Comment
In case you've been living under a rock for the past few months, you've likely heard about a major event happening across the nation in a few weeks. We're talking, of course, about the August 21st solar eclipse!
Across the United States, moving west to east from Oregon to South Carolina, the Moon will pass between the Sun and the Earth, and will cause a dark shadow to slowly blot out the daylight. This will be a truly historic event – an eclipse of this nature has not taken place in nearly 100 years. It was 1918 the last time Americans were given such a treat.
We're pretty excited to get out and see the view, safely of course, but drivers beware. This is such a popular event that the Department of Transportation has already put out a fact sheet to encourage individual state agencies and others to take precautions. Why? Because almost two-thirds of Americans live within a day drive of the total eclipse's flight path. That means tons of commuters will be hitting the road to travel to greener viewing pastures. The roads will be busy!
Even more, you can bet looky-loos will be out in full force. Don't be surprised if distracted drivers brake unexpectedly, park unsafely, or who knows what else.
If you're interested in taking some time to view the event yourself, that may be a solid plan. Beyond the historical and scientific value of the event, it's probably a safe bet to avoid the roads until the eclipse has passed. Consider looking ahead at your schedule to make room for some viewing at your favorite roadside vantage point. And be sure to take a look at the NASA website, where plenty of maps like these are available to plan your route accordingly.
Whether you're on the road or not, this is a spectacular show you just won't want to miss.
Are you planning to take advantage of this solar event? Join Smith's orbit by sharing your plans and photos with us on Facebook and Twitter!
And if you're interested in learning more about the trucking industry, or even pursuing a career with one of the nation's best carriers, Smith Transport has multiple career opportunities for Company Drivers, Dedicated and Tanker positions. Get in touch with a recruiter at 866.265.3718 or take a moment to apply online. We look forward to hearing from you!