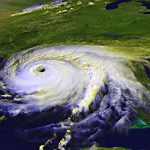 August 3, 2017 8:11 am
Comment
Hurricane season takes place each year from June to November. After the most recent and devastating tropical cyclone in the U.S. hit in August 2005, Hurricane Katrina, we all can't help but associate the month of August with hurricanes.
Click here to see TIME'S Most Destructive U.S. Hurricanes of All Time.
These strong storms with their intense winds and heavy rainfall are catastrophic. Not only is driving safety #1 at Smith Transport, but all sorts of safety–that includes hurricane preparedness. Whether you're a truck driver away on the job or at home, it's important to be prepared for Mother Nature at all times. Because no matter what area/basin you live in (Atlantic, Pacific or Indian), a destructive storm could strike.
If history has taught us anything, we know lack of hurricane awareness and preparation are common threads among all major hurricane disasters. By knowing your vulnerability and what actions you should take, you can reduce the effects of a disaster.
5 hurricane preparedness tips from Smith Transport:
1.  Create a Disaster Supply Kit:
Water– at least 1 gallon daily per person for 3 to 7 days
Food – at least enough for 3 to 7 days (non-perishable packaged or canned food)
Food and drink for infants or the elderly
Non-electric can opener
Cooking tools
Matches
Paper plates and plastic utensils
Blankets, pillows, etc…
Clothing – seasonal, rain gear, sturdy shoes
First Aid Kit, medicines, prescription drugs
Special items – for babies and the elderly
Toiletries, hygiene items, moisture wipes
Flashlights and batteries
Radio (battery operated)
Cell phones – fully charged phone with extra battery or portable charger
Cash
Toys, books, and games
Important documents – in a waterproof container or watertight re-sealable plastic bag (insurance, medical records, bank account numbers, social security card, etc.)
Tool kit
Vehicle fuel tanks filled
Pet care items – proper identification, immunization records, medications, food, leash
2.  Develop a Family Plan
Consider taking First Aid and CPR classes
Inform family members about your home disaster supply kit
Discuss the type of hazards that could affect your family
Know your home's vulnerability to storm surge, flooding and wind
Locate a safe room or the safest areas in your home for each hurricane hazard
Determine your Evacuation Zone (escape routes from your home and places to meet)
Have an out-of-state friend as a family contact, so all your family members have a single point of contact
Post emergency phone numbers and make sure your children know how and when to call 911
3.  Have a Pet Plan
Bring pets indoor well in advance of a storm – reassure them and remain calm
If possible before the storm, make sure that your pets are current on their vaccinations (pet shelters may require proof of vaccines)
Remember to include pet care items mentioned above in your Disaster Supply Kit: proper identification, immunization records, medications, food, leash
Have a current photograph of your pet(s)
Have a properly sized pet carrier for each animal
If you plan to shelter your pet, work it into your evacuation route planning. Animals brought to a pet shelter are required to have:  proper I.D., collar and rabies tag, a carrier or cage, a leash, any necessary medications, and specific care instructions. Pet shelters are typically filled on first come, first served basis.
4.  Have a Place to Go
Develop a family hurricane preparedness plan and discuss your intended shelter location before an actual storm threatens your area
Select an evacuation destination that is nearest to your home (preferably in the same county for less travel time)
If ordered to evacuate, do not wait or delay your departure
If you decide to evacuate to another county or region, be prepared to wait in traffic – bring vehicle fuel tanks to ensure you don't run out of fuel
If a hotel is your final destination during an evacuation, try to make reservations before you leave
If you are unable to stay with friends or family and no hotel rooms are available, find a shelter closest to you
5.  Secure Your Home
Most important precaution you can take to reduce damage to your home and property:  protect the areas where wind can enter
Strengthen the exterior of your home so any wind and debris destruction is significantly reduced
Protect and reinforce these five critical areas: roof, straps, shutters, doors and garage doors
Want to know more about securing your home minimize exterior and interior damage? Check out these home Severe Weather Readiness tips from The Weather Channel
Smith Transport hopes these disaster prevention tips have been enlightening and helpful. This August, take the necessary precautions to protect your family and your home during hurricane season.
Interested in driving for Smith?
Give one of Smith Transport's recruiters a call at 866.265.3718 or take a moment to apply online. Smith recruiters are standing by!