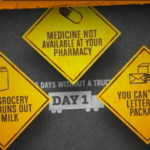 July 8, 2017 2:03 pm
Comment
For those not involved in the transportation industry, you probably haven't thought much about trucks and the professionals that sit by the wheel everyday. But the truth is that trucking is critical to our economy. A truck has delivered most of the items you own: from furniture in your home, the clothes on your back, to the food you'll eat for dinner tonight.
To remind us of just how vital our interconnected highway system and the trucks that use them are to our everyday existence, Be Prepared to Stop recently published a YouTube video showing the grim reality of what the U.S. would look like if trucks stop rolling for five days. Take a look:
Without trucks, America couldn't move forward–proving yet another reason to be thankful for truck drivers! And don't forget National Truck Driver Appreciation is just around the corner, September 11-17, 2016. Your friends here at Smith Transport always look forward to this time when America takes the time to honor all truck drivers for their hard work and commitment in tackling one of our economy's most demanding and important jobs.
If you're interested in joining these 3.5 million professional men and women who keep our highways safe and deliver our goods safely, securely and on time, then it's time you apply at Smith! Smith Transport is an elite fleet with great pay and top-of-the-line equipment. It's a place where you can develop personal relationships with colleagues rather than being "just a number." To start your rewarding career on the road, get in touch with a Smith recruiter at 866-265-3718 or smith-recruiting@smithtransport.com. You can also apply online now.
Join the conversation and follow Smith Transport on Facebook and Twitter!