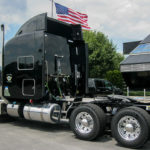 May 5, 2017 6:29 pm
Comment
Memorial Day is just around the corner, and we are all looking forward to taking the extra time to celebrate the memory of our fallen armed services members. In addition remembering the fallen, we also take this time to appreciate rest and family time. Of course, every hardworking truck driver appreciates and deserves a break, too!
But as we head into the Memorial Day weekend, it's important to note the expected heavy traffic on the roads. Suspect number one: the summer weekend reveler. Whether headed to the beach with a car full of kids or steering a recreation vehicle to a national park, American roads will be full of commuters. Unfortunately—and dangerously—distracted and even impaired drivers may be present. The American Trucking Association is encouraging that the industry take safety precautions against these dangers.
The coming weeks are excellent opportunities to implement extra-careful inspection procedures for lights, brakes, and other important equipment. It's also important to practice good driving habits, like avoiding tailgating and watching your blind spots. Nearly forty million American drivers were estimated to hit the road this time last year – so let's do our part keep it safe for everyone.
And while many professional drivers will be taking a load off over Memorial Day, some others will be gearing up for a busy weekend. We're talking, unfortunately, about thieves. Cargo thefts commonly increase over holiday weekends – often due the higher number of tractor-trailers remaining parked and the fact that their driver's may be less likely to be in the area. Fortunately, there are plenty of steps a driver can take to reduce the risk of theft, both over the holidays and every day of the year.
With a little extra attention, it's easy to keep both your fellow Americans and their precious cargo safe over Memorial Day weekend. That should leave you free to celebrate the true meaning of the holiday and to enjoy a beautiful summer with your loved ones. Now that's a goal we can all get behind.
Are you interested in learning more about safety driving tips and industry news? What about learning how to build a successful career in trucking?
If so, just give one of Smith Transport's recruiters a call at 866.265.3718 or take a moment to apply online. We certainly look forward to getting to know you.
And while you're at it, get to know us and give us a follow on Facebook and Twitter. Have a safe and wonderful Memorial Day!