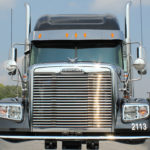 May 1, 2017 6:01 pm
1 Comment
One of the most interesting developments that we – and the rest of the trucking industry – have followed for several years is the ever-present driver shortage. This shortage isn't new to the industry. In fact, the American Trucking Associations recently found that the number of open positions has been growing for the past six years. Even more, the number of empty driver's seats could reach 175,000 by 2024.
If you're involved in the trucking industry, you likely know of this already. But what could this mean for the prospects of a solid driving career?
In short, we'd argue that the looming shortage makes a career in trucking an excellent choice. No doubt there are challenges such as time on the road and away from the relative comfort of a desk job, but economics suggests that as demand continues to outpace supply, good drivers should see their earning power rise. In a market where talented candidates are in short supply, premiums will rise for trucking firms that want to attract – and keep – the best drivers. And in choosing a job, money talks, right?
And if we may speculate a bit further, we can assume that drivers should expect more than a solid paycheck alone to keep them to the road. While new drivers may likely need to "rough it" by working as a contractor for a while or by driving less enjoyable routes, experienced and reliable drivers across the country are increasingly being hired as full-time employees, complete with excellent health care and retirement benefits. They are also receiving more steady routes, which allow for more time at home. Smith Transport is proud to lead in both of these areas.
Finally, the trucking industry is large, strong, and not going anywhere soon. As it stands today, it's the lifeblood of our economy. Nearly three quarters of freight moved in this country goes by truck and our industry employs over 3.5 million drivers. While driverless technology is a popular topic, it is widely accepted that the technology is far from ready to roll. In fact, trucking executives were in Washington, DC early this month making that clear. As Werner Enterprises CEO Derek Leathers put it, "I think we are a long, long way away from true driverless trucks going down America's roadways and hauling 80,000 pounds without a driver in the cab." We agree.
There's no doubt that the future of trucking is bright. So, if you're interested in profitable, growing career, you might consider putting on your sunglasses and hopping behind the wheel at Smith Transport.
Want to learn more about the trucking industry and how it will evolve and grow? Keep your eyes on our blog.
Ready to start building your successful career as a professional driver? Give one of Smith Transport's recruiters a call at 866.265.3718 or take a moment to apply online. We would be happy to hear from you!
And while you're at it, share your thoughts and give us a follow on Facebook and Twitter.
One Response