February 4, 2017 7:09 pm
3 Comments
Being sick is bad enough – but being sick on the road is something every truck driver wants to avoid. This is especially true if you're a long haul driver – you're away from home for long periods of time and experience daily life on the move. Unfortunately, germs and illnesses don't care where you are, and can silently make their presence known to whomever, whenever!
From a simple sore throat to a serious medical condition, it's especially important to be prepared as a professional driver. Luckily, Smith Transport has 5 trucking tips for you to be prepared for any level of illness on the road:
Tip 1: Keep a first-aid kit, thermometer, and over-the-counter medicines for common remedies on hand. Be sure to carry treatments that don't cause drowsiness or impaired judgment. If you do, of course take them only before a good night's sleep.
Tip 2: If you don't feel well, get off the road. Find a safe place to stop, preferably a truck stop, and take a rest. You could be a risk to yourself and other drivers if illness is coming on, so listen to what your body tells you. Don't be intimated by dispatch because of an important load. Your health, safety, and the safety of others is always the most important concern.
Tip 3: Is it something serious or do you think it could be? Contact your family and dispatch immediately. Tell them where you are and what you think the problem is. Contact truck stop staff and make them aware of your condition. And if it seems very serious, never hesitate to call 911.
Tip 4: Always have a Medical Identification Card on you or in your truck. Medical IDs hold vital information like food or drug allergies as well as emergency contact numbers. It's better to be safe than sorry.
Tip 5: Remain calm. Panicking never accomplishes anything. Just stay calm and use good judgment…
When you're sick on the road, you're certainly not at your best for driving a truck. Park it when necessary. And be sure to keep these tips in mind so that you'll always be prepared if in the unfortunate case of a medical emergency. Stay healthy and stay safe, everyone!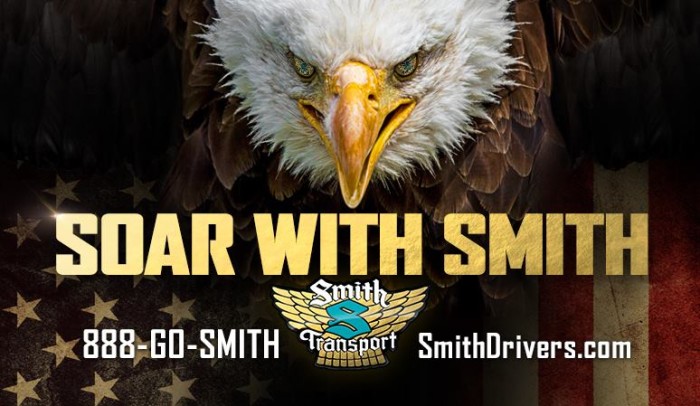 Ready to make a great living as a Smith Transport driver on the open road? Get in touch with our friendly recruiters today at smith-recruiting@smithtransport.com or 866-265-3718. Ready to apply? Just click here and get your application on its way.
Join the conversation with Smith Transport on Facebook and Twitter!
3 Responses