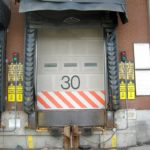 February 21, 2017 7:53 pm
1 Comment
One of the most challenging parts of truck driving is backing up. Of course, it's also something you'll have to do often–especially working local routes.
Professional drivers in training benefit from many hours practice before taking their CDL, and should keep practicing after, to build skill and confidence. Even for experienced drivers, backing up a truck requires finesse and care; veteran drivers also get into difficult backup situations in unfamiliar territory or in tight spots with little room for error. Every situation is different, even if you've used a certain dock many times before. Combine this with inclement weather and you'll realize that driving maneuvers, in general, can be challenging. Fortunately, there are a few ways to aid in the learning process when setting up for a dock.
From Smith Transport, check out these trucking tips for backing up in a big rig:
Assess the situation in person: Stop your truck (or park in a nearby spot if possible) and walk the area. Take a good look and plan how you'll set up for this particular dock. Note any obstacles.
Eliminate distractions in your cab: Roll windows down and turn off music/radio.
Make small adjustments rather than sharp turns.
Pull forward slightly to straighten out 1,000 times if necessary.
Choose careful over quick: Deadlines are a fact of life for truck drivers, but rushing can cost you in more ways than one. Take your time. If you're unsure and need to double check on this or that, don't hesitate to do so.
Go around the block: If you've overshot, take a lap. Safety trumps speed.
Get a spotter on the ground: A consignee, shipper or dock employee may be able to direct you as you reverse your big rig—but remember the responsibility is yours.
Lean out rather than relying on mirrors, but don't forget to check clearance on the other side of the truck, all the way.
Remain calm and cool: Don't let stress push you toward decisions that aren't thought through. If something goes in the wrong direction, don't panic and stay as calm as possible.
Practice in empty truck stop lots or wherever you can. Practice is key!
Perhaps the most important advice for truck drivers setting up for a dock is don't feel rushed. Be patient with yourself, and don't let anyone ridicule or embarrass you. We all start somewhere, and the best thing you can do is follow what you've learned, keep practicing, and keep up the hard work to continue improving your skills and driving career!
____________________________
Enjoy the adventure of being a Smith Transport driver out on the open road and come soar with Smith. Get in touch with our friendly recruiters at smith-recruiting@smithtransport.com or 866-265-3718. Or apply now and get your application on its way!
Join the conversation with Smith Transport on Facebook and Twitter!
One Response