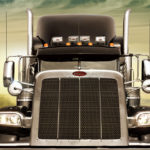 January 3, 2017 3:00 pm
Comment
We are excited to launch our brand new website – SmithDrivers.com – built with you in mind! This year, Smith Transport has a lot of exciting opportunities for current drivers and interested applicants, so a new and improved website is one of the ways to get the word out.
Here are a few areas of the site you can explore now:
Enjoy! Let us know what you think of the new SmithDrivers.com site on Facebook.
Questions for our recruiters? Give us a call at 866-265-3718. We look forward to speaking with you!