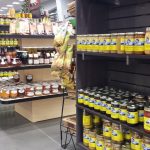 January 26, 2017 3:00 am
Comment
If you haven't yet heard about the Trucker Path app, you should consider having a look. It's one of those helpful little tools that we love to highlight in our coverage of lifestyles and developments in the transportation industry on the Smith Transport blog. Trucker Path bills itself as "the tool truckers use to tell each other about parking, weigh stations, and stops that matter for life on the road."
And not too long ago, the folks behind the application released their helpful list of the top truck stops across the country. According to their article on the subject, they utilized information provided by drivers using the app to rank truck stops on a five-point scale. They ended up analyzing the results of more than 71,000 individual ratings to see which stops topped the list. Here are the 12 top picks:
Busy Bee  —  Live Oak, Florida
Tullo Truck Stop Inc.  —  Kearny, New Jersey
Travel Express  —  Lathrop, Missouri
Pilot Travel Center  —  Childress, Texas
Love's Lenoir City #480  —  Lenoir City, Tennessee
Pilot Fuel Stop  —  Roosevelt, Utah
Newborn Truck Stop  —  Tallapoosa, Georgia
Gateway TP – Exxon  —  Carthage, Texas
Lisa's Truck Center  —  Moriarty, New Mexico
Mobil  —  Little Chute, Wisconsin
Kewanee One Stop  —  Toomsuba, Mississippi
Love's Grand Junction  —  Grand Junction, Colorado
So what made these stops the best? You wouldn't be surprised, but clean restrooms, plenty of useful parking, good food, and friendly faces were among the favorite factors. And while the study found "mom and pop" stops to be ranked generally higher than others, many of the big names made the list too. Want to see if your favorite truck stop made the cut? Check the full list along with addresses and other contact info at the source.
Fun studies like these, made possible by a super-useful, free application are a great example of the way technology is improving the lives of professional truck drivers. No longer are we dependent on word of mouth or tips from a nearby driver on the CB. Technology is making this industry safer, smarter, more efficient every day.

Want to learn more about the trucking industry and what sharp drivers are doing to improve their careers? Follow the Smith blog!
And if you're interested in putting your driving skills to work for one of the best carriers on the road, get in touch with Smith Transport at 866.265.3718 or apply online now.
Join the conversation and follow us on Facebook and Twitter!