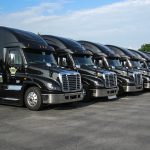 December 7, 2016 9:28 am
Comment
2017 is just around the corner, and many of us are thinking about New Year's Resolutions. For some, it will be saving more money, losing weight, being more organized, or learning a new skill. For others, it will be starting a new, valuable career. If that's you, we highly recommend truck driving – and not just because we're a trucking company looking for professional drivers, but also because it's one of the fastest growing and most accessible career paths in the country.
The professional drivers at Smith Transport already know that individual freedom, great salaries, benefits, and the liberating feeling of the open road are just a few reasons why earning a living behind the wheel is a smart choice. But let's take a look at it for ourselves!
Plenty of Options
First, the trucking industry is a nice option for a New Year career upgrade because there are multiple options to enter the field in a division that fits your needs. Whether you want to stay on the road for the long haul, or looking for significant home time, you can find a position that fits your preferences. Truck drivers may haul heavy equipment, hazardous cargo, or grocery items to the local store. There are plenty of varieties on what needs to be hauled and where!
SEE ALSO: Types of Trucking
Plenty of Opportunity
The outlook for further career growth is healthy for trucking, too. According to the Bureau of Labor Statistics, trucking jobs are expected to grow by 11% over the next decade. The economy depends on drivers to transport freight and keep supply chains moving. As the demand for goods increases, more truck drivers will be needed. Trucks transport most of the freight in the U.S., so as households and businesses increase their spending, the industry will grow. Plus, many truck drivers are expected to retire in the coming years, creating even more job opportunities.
Great Pay
Now, let's talk about the salary and benefits. After all, most employees don't work just for the fun of it. So what's the bottom line on compensation? Well, it varies, but the benefits overall are great. For example, Smith Transport offers a base pay PLUS detention pay, stop off pay, layover pay, short haul pay as well as monthly bonuses and so much more.
The Equipment
The perks continue! Many truck drivers really enjoy operating top-notch equipment as part of their workday. Smith drivers surely enjoy commanding the cab of some truly remarkable trucks. Our tractors consist of Peterbilts, Freightliners and Internationals, and we don't scrimp on the chrome.
The Open Road
Finally, there are the less-obvious perks that don't come on paper but for most, it's a huge benefit… the open road. The thought of life on the road is enticing, and the opportunity to see awesome scenery makes for a nice "three-window office." Others may relish working independently and with solitude. And there's always the chance to meet new people, and even sample interesting foods along their route. With exciting travel at your fingertips, working as a truck driver is unlike any other occupation.
Soar with Smith in 2017!
If a career upgrade is in your 2017 plans, get in touch with a Smith Transport recruiter at 866.265.3718 or smith-recruiting@smithtransport.com. If you're ready to soar with Smith and send in your application today, just click here to apply.
Get social with Smith Transport and follow us on Facebook and Twitter!