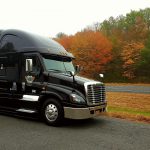 October 27, 2016 4:14 pm
Comment
At Smith Transport, we are proud of our top of the line fleet and the professional drivers that keep this country on the move—and we're always looking for new talent! We also think it's good to stay on top of the latest trucking news and keep our readers apprised and informed of various trucking topics. One of those is the solid bet of launching a career behind the wheel.
But there's more to a career in the transportation industry than may meet the eye. Not all trucking jobs are the same. Home time, pay, equipment, and lifestyle will all differ based on your carrier and the type of trucking you're interested in. So, what are the most common types of trucking arrangements?
Long Haul / Over The Road – As the name suggests, long haul truck drivers make regular trips across their various regions, or even the country – whatever it takes to deliver the goods. Long haulers may spend several days making one specific trip or even weeks running across state lines. For obvious reasons, a lot of husband and wife teams join forces for this type of trucking and many of these OTR drivers work for well-established companies (and earn some well-deserved pay!)
Local – Clearly the opposite of long haul, local truck drivers stay close to home and will likely find themselves at home in time for dinner on a regular basis. The increased home time is much appreciated, but the routes may involve more stops, more traffic, and less excitement than a career making longer runs. The pay is sometimes lower as well, since many drivers gun for these regularly scheduled gigs.
Owner Operator – These drivers rely on their own wits and luck, accepting the higher pay – and risks – that go with trucking solo. An Owner Operator owns his truck, his business, and his schedule. But that also means he or she will be without much help if maintenance issues, wrecks, or slow business comes into the picture. These guys may pull all sorts of loads from flatbeds to hazardous materials and your typical enclosed trailer. If there's a contract, they're probably after it!
Specialized and Hazardous Materials – These truck drivers are often more experienced and take on all manner of more high stakes projects. Have you ever seen a mobile home or huge piece of construction equipment slinking along the highway in front of you? You've surely noticed the leagues of petroleum careers that keep our country rolling. The drivers behind those rigs possess special certification of know-how and safety expertise, all of which leads to a higher paycheck as well.
Like all things in life, each type of trucking has its own pros and cons, and a clever driver would be wise to investigate them all before hopping behind the wheel. But whatever type you choose, you'll be set for a successful career. Why you might ask?
Well, current estimates put the transportation industry at about 50,000 truck drivers short of the number it currently needs to stay in the fast lane. With numbers like that, carriers are realizing that better pay is key to attracting and keeping better drivers. If you've ever considered trucking, this should peak your interest in entering the industry when your value is high and folks are willing to pay for your skills.
Are you ready to learn more? Give one of Smith Transport's recruiters a call at 866.265.3718 or take a moment to apply online. We certainly look forward to getting to know you.
And while you're at it, get to know us and give us a follow on Facebook and Twitter!