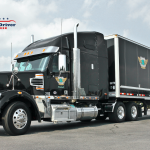 September 6, 2016 11:34 am
Comment
It's almost here! National Truck Driver Appreciation Week (NTDAW), September 11-17, 2016, is when America takes the time to honor all professional truck drivers for their hard work and commitment in tackling one of our economy's most demanding and important jobs. These 3.5 million professional men and women not only deliver our goods safely, securely and on time, they also keep our highways safe. Truck drivers keep America moving!
This September, American Trucking Associations (ATA) along with a new industry-wide movement, Trucking Moves America Forward, encourages everyone to reflect and appreciate professional drivers that deliver our nation's freight safely and securely, and Smith Transport couldn't agree more. Truck drivers are incredibly vital to our economy. The industry provides one out of every 16 jobs in America and moves more than 70.1% of the nation's total freight tonnage. They make sure that our most essential items like food, fuel, medicine, and clothing are provided on a daily basis. Professional drivers are safe, dedicated individuals that our country simply couldn't live without.
Join Smith Transport in this annual celebration and take a few minutes to appreciate the effort these professionals put in every day. Celebrate and show your thanks all 3.5 million of them this National Truck Driver Appreciation Week 2016!
As you can see, being a truck driver is an important and rewarding career with plenty of opportunities for growth, especially here at Smith! If you're interested in driving for Smith Transport, get in touch today at 866-265-3718 or shoot us an email at smith-recruiting@smithtransport.com. You can also apply online now.
Be sure to also follow us on Facebook and Twitter!