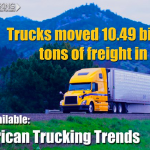 August 12, 2016 9:16 am
Comment
If you haven't heard, the latest edition of ATA American Trucking Trends 2016 was recently released! Smith Transport has the breakdown for you right here, right now.
Trends is produced by ATA's Economics Department to provide a profile of the dynamics shaping the trucking industry. The only almanac on U.S. trucking, it also serves as a vital source of information on major trucking and transportation issues. Released August 4, 2016, the report shows the industry posted gains in employment, number of truck drivers and truck sales through 2015.
Here are some of the findings in this year's edition of Trends:
Trucking collected $726.4 billion in gross freight revenues, 81.5% of the nation's freight bill in 2015.
Trucks carried 10.49 tons of freight in 2015, accounting for 70.1% of domestic freight tonnage.
In 2015, there were 3.63 million Class 8 trucks in operation.
The almanac also includes data on:
Amount of taxes the industry paid.
The number of miles combination trucks traveled and the amount of fuel they consumed.
Key employment data, including the number of persons working in trucking related jobs throughout all industries, number of drivers and how many women are truck drivers.
Number of trucking companies by company size.
The fact that trucks moved more than 10 billion tons of freight reminds all of us just how important trucks are—and of course the professionals that sit behind the wheel. Without them, our economy couldn't move forward. That's just one of the reasons truck drivers have a rewarding career with plenty of opportunities for growth, especially here at Smith Transport! If you're interested in driving for Smith, get in touch today at 866-265-3718 or shoot us an email at smith-recruiting@smithtransport.com. You can also apply online now.
Until then, we'll see you on Facebook and Twitter!