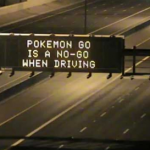 July 15, 2016 2:28 pm
1 Comment
For everyone in the trucking industry, including all of us at Smith Transport, boredom seems to have a way of sneaking into our lives. As busy as well all are, there always seems to be time to play on our phones – we're all guilty. And while driving while using a cell phone is well-known and highly-documented in its ability to create dangerous driving conditions, we have a new phenomenon to deal with this year. It seems that many recreational and casual drivers these days aren't just looking to use their mobile apps catch the next exit; they're keen to "catch em' all."
That's right, the Pokémon Go sensation has entered the realm of real life, with sometimes-dangerous consequences.
For those readers unfamiliar with the newest mobile gaming fad, the application allows users to search for and discover the battle-ready Pokémon beast throughout real-world locations using the camera on their mobile devices. Essentially, avid players can use the camera function of their phones to locate the make believe creatures at real locations like parks, on corners, and at other places – unfortunately sometimes including road-side locations.
While it's just a game, reports of traffic troubles created by the app are already in the news. Evidently some players literally walked off of a near 100-foot cliff recently in their hapless pursuit of digital gaming stardom.
On the road, numerous Twitter and other social media users have started sounding off about the aggravating antics of Pokémon pursuing drivers. College police in Texas actually reported an accident recently where a rear-end collision was caused by inattentive drivers stopping recklessly to "catch a Pokémon." We just can't make this up.
So what does this mean for truck drivers? Well, not much has changed. Professional, safe drivers like those driving for Smith Transport have been aware of the perils of distracted driving for years. That's why we conduct top of the line training for all of our drivers. But this also means that folks have yet another hyper-popular distraction sure to promote erratic driving and unpredictable behavior on America's byways. But what's new, right?
So keep an eye out guys – for even more distracted drivers that is – not for your favorite Pokémon.
(But once you're off the road, the game is pretty darn fun!)
And in between work and play, if you're looking for more tips on trucking, news, or information on life in the industry, stay tuned to the Smith Transport blog for all our updates. For those of you interested in joining our elite team, send us an email at smith-recruiting@smithtransport.com, or give a recruiter a call at 866-265-3718. You can even apply online. We look forward to hearing from you!
And while you're at it, give us a follow on Facebook and Twitter. Remember: Phones down, eyes on the road. Stay safe, everyone!
One Response