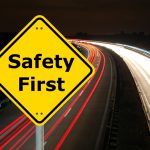 June 15, 2016 11:59 am
Comment
At Smith Transport, we strive to keep abreast of changes and developments in our industry, and today we'd like to address a great development of which we've been happy to play our small part. In recognition of National Safety Month, the American Trucking Association just announced some wonderful news on safety in the industry.
According to the ATA, the trucking industry spends over 7 billion dollars a year on safety-related training, technology, and equipment—and it looks like that investment is paying off for all of us on our nation's roads, highways, and interstates.
According to safety data released in April, fatal traffic accidents involving trucks have fallen by nearly a quarter – down 21% since 1980. Even more, crashes altogether are down by roughly one third and the rate of crashes per 100 million miles traveled is down almost 75%. This is excellent news both for the transportation industry and commuters who share the roads with us every day.
And while technology has played an important part in these positive changes, we really must thank our professional drivers, dispatchers, and technicians for playing such a vital role. After all, these are the folks in position to keep safety at the forefront where the rubber meets the road.
To all of our safe and considerate drivers at Smith Transport, we thank you! And to all of those drivers on the road with other fleets, much obliged!
With a continued focus on safety behind the wheel, trucking is set to continue its progression as a safe, stable, and attractive career for individuals across the country. For recent graduates, experienced transportation professionals, and anyone interested in pursuing a fulfilling driving career in the fast lane, why don't you join us at Smith? Driving with us, you're truly driving with the best!
Are you interested in learning more about building a happy, healthy, and successful career in trucking? Give one of Smith Transport's recruiters a call at 866.265.3718 or take a moment to apply online. We certainly look forward to getting to know you.
And while you're at it, get to know us and give us a follow on Facebook and Twitter!