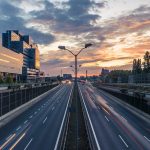 June 27, 2016 5:05 pm
Comment
At Smith Transport, one of the qualities that set our drivers apart from the pack is their safe driving records and the care that they exercise every time they get behind the wheel. When you're in command of a multi-ton vehicle tipping the scales at tens of thousands of pounds, safety is key at every turn.
But not all truck drivers are equally as committed to safety or equally focused. Even more, some roads are more dangerous than others. Factors like the number of vehicles on the road, a highway's state of repair, speed limits, and geographic features all combine to elevate the risks one takes on the road. So what U.S. highways are the most dangerous and the driving conditions most hazardous?
Well, the guys at Condé Nast Traveler have put together a larger list of these roadways, but here's the top five:
Interstate 10:  Stretching 2,460 miles from the Pacific Ocean to Jacksonville, Florida, I-10 cuts through the eight most southern states and sees the most serious accidents and fatalities.
Interstate 95:  This 1,919-mile pathway extends throughout the eastern seaboard from balmy Miami all the way to Massachusetts.
Interstate 40:  I-40 rolls westward from North Carolina, almost bisecting the country down the middle on its way to its terminus in Barstow, California. I-40 encompasses more than 2,500 miles.
Interstate 75:  Extending southward from the Motor City to Tampa, Florida, this American road carries so much traffic that it often offers six lanes of travel, even in rural areas.
US 1:  One of the country's most eastern major highways, US 1 runs the full length of the nation from the northern tip of Maine all the way down to the Florida Keys.
Plenty of factors make these American highways more perilous than others, but the main contributing elements are levels of traffic and speed. With so many drivers coasting to and fro, safety can become an issue.
That's why we at Smith Transport train our drivers using the latest technology, maintain our equipment with stellar service, and incorporate a commitment to safety and responsibility into every operation. So when you see our trademark black and chrome Smith truck near you on the roadway, you can be rest assured that the driver behind the wheel is a true professional.
Interested in more tips for safe driving and careers on the road? Are you a safe truck driver looking to make an upgrade to your job behind the wheel? Join Smith Transport! Give one of our recruiters a call at 866.265.3718 or take a moment to apply online. And while you're at it, share your story with us and give us a follow on Facebook and Twitter!
We look forward to hearing from you!