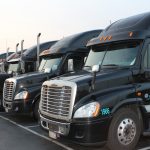 May 23, 2016 11:45 am
Comment
At Smith Transport, one of the qualities that set our truck drivers apart from the pack are their safe driving records and the care that they exercise every time they hop behind the wheel. When you're in command of a multi-ton vehicle tipping the scales at tens of thousands of pounds, safety is key at every turn.
As drivers hit American roads for summer vacations this year, we are happy to observe June as National Safety Month, a time when thousands of organizations and groups around the country get together to raise awareness of safety in all aspects of live. The National Safety Council calls it "SafeForLife," and we're proud to support these efforts.
At Smith Transport, an enduring commitment to safety is part of our daily landscape. We feel a sense of responsibility to America's motoring public that drives us to cutting edge safety technology and instruction.  We own and operate two L3 driving simulators that are made to function in just the same way as the flight simulators used by commercial airlines and the United States Military to train pilots.
Further, our drivers participate in classroom instruction as well as simulated drives throughout their career at Smith Transport that allow them to prepare for dangerous road conditions in a controlled environment.  We're able to instruct drivers on the essential countermeasures that will keep you and your family safe when traveling near one of our trucks.  This type of experience is invaluable as it promotes deliberate and proven driving techniques that avoid hazardous situations long before they even develop.
So when you see our trademark black and chrome trucks near you on the roadway, you can be rest assured that the driver behind the wheel is a true professional.
And we hope you join our professionals this June to celebrate National Safety Month! Help spread safety messages with co-workers, family, and friends by signing up for these free materials from the National Safety Council.
________________________
Are you a safe driver looking to make an upgrade to your job behind the wheel? Drive for Smith Transport! Give one of our recruiters a call at 866.265.3718 or take a moment to fill out a full application online. And while you're at it, share your story with us on Facebook and Twitter.
We look forward to hearing from you!