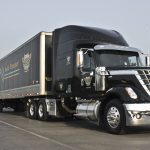 May 27, 2016 12:26 pm
Comment
At Smith Transport, we are experts in the trucking industry. Our top of the line fleet and experienced drivers keep this country on the move and we're always looking for new talent! We also keep on top of the latest trucking news and took notice of a recent article in Fleet Owner on some of the things trucking companies are doing to hold on to the best professional drivers.
According to the article, recent speakers at the ALK Transportation Technology Summit cited several factors currently affecting truck driver hiring and retention. Among the top concern? PAY.
Did you know that the transportation industry is estimated to be short by about 50,000 drivers currently? It's even possible for that number to reach a quarter of a million by 2020! With numbers like these, companies all over the nation are realizing that better pay is key to attracting and retaining superior drivers. If you've ever considered trucking, this should peak your interest in entering the industry when your value is high and employers are willing to pay for your skills.
In such a dynamic environment, safe and reliable drivers have the upper hand on landing a great position. With a limited pool of applicants and high levels of employer competition, the trucking industry is a great place to be these days.
The same is true for new drivers. In fact, one driver training provider recently reported that 98% percent of its new graduates had job offers upon graduation, and that's without starting the job search prior to classes. Even more, this shortage of reliable drivers is contributing to new developments in the industry, like an increasing number of women drivers getting behind the wheel. That's wonderful news for folks like us!
Good drivers are in short supply, and that is sure to fuel rising wages, better benefits, and a strong long-term outlook in the industry. There's no doubt it's a solid time to consider a career in the transportation industry.
So are you ready to learn more, be part of an elite fleet, and drive equipment that is second to none? Get in touch with a Smith Transport recruiter at 866.265.3718 or take a moment to apply online. We certainly look forward to getting to know you.
And while you're at it, get to know us and give us a follow on Facebook and Twitter!