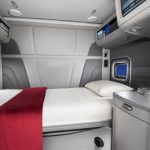 April 22, 2016 12:30 pm
Comment
Whether you're an over-the-road (OTR) truck driver riding solo or joining your spouse, there are many things to consider before hitting the road. Time away means you'll want to pack accordingly and bring items that will come in handy. This list will give you a couple of ideas you may not have thought of.
There's little storage in a sleeper cabin, so you must pack lightly. If you're a female, you probably have a wardrobe for every season and enough clothes and shoes to fill at least two closets and a large dresser. Unfortunately, your closet can't come along with you. Stick with what you need for the season, which will mean two pairs of jeans or pants, some layering clothes like tank tops and long sleeve shirts and a sweater or two for the winter. Fortunately, summer clothing takes up even less room. Be conscious when you're packing and only bring what you know you will wear to fit the season.
When it comes to eating meals during your OTR journey, you'll want a small microwave and a small fridge. These three kitchen appliances will suffice. As for food in the truck, it's smart to bring groceries that are ideal for road such as canned soup, chips, and frozen meals. With a fridge, you can even buy bread, meat and condiments to make your own sandwiches. You will probably find yourself snacking rather than eating larger, regular meals. If you're looking to save a buck or two, try to steer clear of eating out every day; it can get costly! Treat yourself once a week to a meal out.
We also suggest bringing a gallon jug of water in the truck and refill water bottles. It's efficient and what's even better, healthier to stick with water.
So you have the items you need — now let's move onto another important topic: hygiene. Being on the road for long periods of time makes it more difficult to shower on a regular schedule, but staying clean is important for your health and appearance and makes you feel much better in your everyday duties.
Need to brush your teeth? Bring a plastic cup and bottled water to brush them when needed. Males and females: bring facial cleaning cloths designed to clean your face at the end of the day. It's a good idea to bring hand sanitizer and moist wipes. Having those on hand helps you to feel like you are staying clean. As for showers, truck stops offer free showers with a fill up or sometimes if you purchase a certain amount of merchandise. Bring a plastic container/drawer and shower caddies for your toiletries. They should work well when you have to go into the truck stop to shower because they're small and easy to transport.
These truck stops also sometimes have professional driver lounges with TVs, couches and laundry facilities. Before you hit the road, be sure to buy a small bottle of laundry detergent from the local store for washing clothes.
With such a small space for your clothes, food, drink and toiletries, try your best to stay organized. A clean environment is a happy environment!
Let's review our checklist:
A reasonable amount of clothes for the season
Groceries (avoid foods that may go bad quickly)
Small kitchen appliances
Shower caddy for toiletries
Gallon jug of water
Face wipes
Hand sanitizer
Moist wipes
Small bottle of laundry detergent
A few more suggestions…:
Household odor eliminator
Roll of paper towels
Clorox wipes
Garbage bags
Paper plates
Plastic eating utensils
Fingernail clippers
Vitamins
Follow the Smith blog for more trucking tips and tricks!
And if you're keen to learn more about truck driving careers or what it's like to drive for the best, get in touch with Smith Transport at 866-265-3718 or shoot us an email at smith-recruiting@smithtransport.com. You can also apply online now. Don't forget to check out us on Facebook!