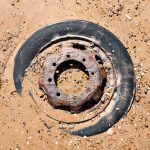 March 30, 2016 4:36 pm
1 Comment
At Smith Transport and across the country, springtime is blooming and the temperatures are climbing upward with the onset of summer. This is the time of the year when all sorts of animals will crawl out of their cold weather hiding places (including drivers on the road for summer travel!) But our non-commercial and commuter driving friends aren't the only risks of the warmer roads. It's "road-gator" season.
That's right, those long, summer-loving rubber reptiles are sure to be found sunning themselves along our highways and interstates as the weather heats up and stressed tires give up the ghost. But the shreds of tires found along the shoulder are more dangerous than their "trucking" name may imply.
Besides the inconvenience of losing a tire, summer blowouts are extremely unsafe and can cause serious vehicle damage. Tire delamination and blowouts responsible for these events are not always predictable, but with a little homework and vigilance, you can reduce the chance of wreaking havoc as you drive across our great country.
Look out for these warning signs of tires that need replacing – before it's too late.
Uneven Wear – Indicative of improper balancing or perhaps a suspension issue, tires which wear quicker on one side shouldn't be left to ride. Especially in hot summer months, this can increase pressure on sidewalls, eventually causing catastrophic failure of the tire.
Center Line Wear – Consider reducing the pressure in tires that wear more along the middle than elsewhere on the tread surface. This is a sign of over-inflation that'll reduce tread life and increase the possibility of problems.
Low Tire Tread – This is more obvious, but make sure you check for poor-gripping, bald tires, especially on those inner tires that are harder to assess from a quick walk-around.
Cracks – Needless to say, an inflatable object responsible for carrying thousands of pounds at speed shouldn't show signs of cracking from age, heat, or sunlight. While surface level cracks may be of no great concern, look out for deep cracks that indicate the tire should be replaced.
Valve Stems – Make sure your valve stems aren't missing any caps and that they are fitted straight and clean through the wheel. Any additional pressure on these guys can easily lead to air pressure issues and worse.
Let's work together to reduce this season's crop of "road-gators" and protect ourselves and other drivers from their hazards. With just a few minutes of diligence, we can keep our tires where they belong, the miles on the odometer, and money in our pockets.
Looking for more tips on trucking tips and news? Stay tuned to the Smith Transport blog for more updates. And if you're interested in joining our elite team, send us an email at smith-recruiting@smithtransport.com, or give our recruiters a call at 866-265-3718. You can even apply online. We look forward to hearing from you!
Follow Smith Transport on Facebook and Twitter too!
One Response