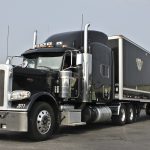 March 1, 2016 2:50 pm
Comment
At Smith Transport, we are keen on keeping drivers well-informed on the latest news in the trucking industry. But the latest news from our friends at American Trucking Associations is relevant for both drivers and those who are considering a career in transportation.
According to recent press release, the annual turnover rate for large truckload carriers has creeped to a higher rate than it has reached during the last three years. During the third quarter of 2015, the annual turnover rate rose all the way up to 100% at large carriers. While rates are a bit lower at smaller carriers, the turnover rate is still high overall.
So what does this tell us about the current state of the trucking industry?
First of all, it tells drivers that the market is very fluid. We've heard for years about the driver shortage being felt across the country, and there's truth to the reports. As evidenced by this high turnover rate, drivers are moving from job to job as they seek the best pay, benefits, and company culture for them. Carriers know this, and the turnover rate could also indicate the problem drivers are being replaced by more qualified candidates.
In such a dynamic environment, safe and reliable drivers have the upper hand on landing a great position. With a limited pool of applicants and high levels of employer competition, the trucking industry is a great place to be these days.
And the opportunity isn't just limited to drivers with a few hundred thousand miles under their belts. New truck drivers should find ample opportunities for growth as well. In particular, drivers that prove themselves through their training and subsequent dependability should count on increasingly rising wages and benefits packages during the next several years. In fact, a recent estimate put salary increases in the range of 8-12% annually.
But what about the long-term outlooks?
Well, the average age of an American truck driver is 49 years old. That means a significant number of drivers will be approaching retirement age over the next decade or two. Without a doubt, trucking careers across the country will be keen to replace these drivers, and they'll be willing to pay to do just that. Even with the advent of "driverless" technology on the horizon, the various regulations and safety issues with such technology will be sure to require a human at the wheel. Just think of modern airliners – they essentially fly themselves, but human pilots are nevertheless required for a litany of good safety reasons.
So with a shortage of drivers, rising wages, and a strong future need, there's no doubt it's an excellent time to look into a career in the trucking industry!
Want to hear more? Give one of Smith Transport's recruiters a call at 866.265.3718 or take a moment to apply online. Life as a driver at Smith Transport offers many unique advantages. You'll love it here!
While you're at it, share your story with us and give us a follow on Facebook and Twitter.