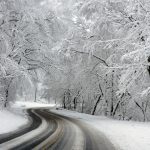 January 6, 2016 3:07 pm
Comment
Last month temperatures in the U.S. seemed to be all over board, but now that January is officially here the majority of us are enduring quite a chill. Now that temperatures are finally falling, it's time to ask yourself, "Is my truck ready for winter?"
Driving a big rig during the winter months can be treacherous. Snow, ice, and slush slow down traffic and bring more hazards to the roads. Luckily, most of the things you need to keep your truck from being the next star of a winter storm TV news highlight are pretty simple.
It all starts with preparation. Write a checklist and make sure you're stocked on items like:
Pair of dry clothes (for after the inevitable day in the snow and slush)
Flashlight with fresh batteries
Emergency flares
Tire chains (checked and verified to be in good condition)
Canned food and bottled water
Backup radio
Snow shovel
First aid kit
Once you've got the basics down, don't forget to give your truck a thorough inspection. You have plenty of tires to check for good tread and proper wear patterns. And your engine has got to be the heart of your mechanical investigation.
If you use a block heater, is it in good working order?
How are your coolant levels, and are you using the correct coolants?
Will fuel additives be necessary to ensure your diesel doesn't emulsify?
Taking just a little bit of time to check your equipment before you hit the road this winter is an excellent investment of your time. As we all know in this industry, time on the road is money in your pocket. So don't risk having your next trip become a misadventure just because you didn't take some time to double-check things.
Looking for more tips on keeping your big rig rolling and other trucking tips? Follow Smith's blog and check what we're up to on Facebook and Twitter!
_____________________
We are hiring professional drivers! Apply now with Smith Transport, where our drivers drive for the best in some of the finest equipment in the country. If you have questions before applying, our recruiters are standing by. Get in touch at 866.265.3718 or smith-recruiting@smithtransport.com