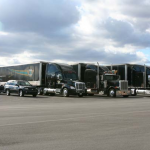 November 6, 2015 3:38 pm
Comment
Smith Transport is a wonderful place to work, and people are taking notice! Are you wondering why exactly driving for Smith means driving for the best? Well, keep reading to find out the details on the best gig in the business. Then, take just a moment to fill out our short application for a chance to win a $250 gift card to some of your favorite retailers!
By taking just a second to pursue a career with us, you'll be just one application away from earning everything you've wanted in your driving career, including:
•          Pay of $56,000+ Per Year
•          Weekend Home Time + Home Weekly
•          Consistent Miles
•          Paid Loaded or Empty
•          100% No Touch Freight
•          70% Drop & Hook
If you still need more convincing, consider these great benefits at Smith Transport:
•          Chromed Out Peterbilts & Freightliners
•          5,000 Watt APUs Units on all Trucks
•          Outstanding Medical Benefit Package
•          No Forced NYC, No Hazmat, No Canadian Freight
•          Bring a Buddy to Orientation, Get $1,500 Referral Bonus!
As you can see, it certainly pays to apply at Smith! Plus- we are just extra happy to hear from you these days, so we're offering YOU a chance to win a $250 gift card to either Cabelas, Hobby Lobby, or a prepaid Visa card. All you have to do is head fill out your application HERE. (Check out the contest rules for more details.)
Better equipment, top pay and benefits, excellent home time—plus a chance to win a $250 gift card just for putting in an app. What more could you ask for? If you want to learn more about driving for Smith, give us a call us today at 866-444-2064. Let's talk!
And while you're hearing about our great benefits and career opportunities, come join the conversation with Smith Transport on Facebook and Twitter!