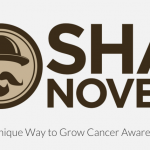 November 1, 2015 2:31 pm
Comment
Have you heard of No-Shave November? If you haven't, it's a whole lot of fun and a great way to support a great cause. The focus of the non-profit project is to raise awareness and support for cancer prevention, research, and education. There are plenty of other ways to promote the fight against cancer, but few are as fun as No-Shave November.
During No-Shave November, men all around the world take the pledge to put down their razors and beard trimmers. The whole idea is to see what kind of great facial hair you can develop over the month. In the meantime, no-shavers are encouraged to take the money saved on grooming and put it towards finding a cure. No matter how your hair grows in, this should start some fun conversations when folks are pleased to find that you're becoming bearded for a cause!
At Smith Transport, we're happy to have friends and family members who are embracing this amusing way to give back to the community. During No-Shave November, we sure are happy the truck driving industry works for all manner of beards from muttonchops to fu manchus!
But seriously, joining the fleets of truck drivers is a wise and rewarding career choice, especially if you're driving for Smith Transport. We offer incredible benefits, regular home time, first-rate equipment, and a sharp, collegial atmosphere. If you're interested in driving with the best, brush that beard out from on top of your keyboard and email us at smith-recruiting@smithtransport.com or apply online. If that won't work, run a comb through that 'stache to make room for a phone call at 866-265-3718! We are happy to hear from you anytime!
Regardless of whether you choose trucking for your career, we hope to see your support for cancer research, treatment, and prevention during No-Shave November 2015. When it comes to cancer, we are all in this together. So let that razor rest and show your support!
And while you're at it, get social with us and share your stubble on Facebook and Twitter!