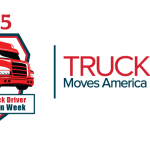 August 17, 2015 9:52 am
Comment
Summer and early fall are full of holidays and celebrations, and here's one we're getting excited about – one month from now, your friends here at Smith Transport and truck drivers all over America will be celebrating National Truck Driver Appreciation Week! From September 13-19, 2015 people around the country will be taking the time to honor professional drivers for their hard work and commitment.
Believe it or not, trucking is one of the most demanding and important jobs to our country. The 3.4 million men and women that work as truck driving professionals deliver the most important items we need on time, safely, and securely. With their commitment to safety and responsibility, they also help keep our highways safe.
Truck driving can be quite a demanding job. These professionals live, eat and sleep in their trucks when they're on the road. They aren't able to eat home cooked meals, or take showers or baths in their own homes, or sleep in their own bed back home. Imagine having to take care of day-to-day duties like cooking and sleeping comfortably in a smaller environment for long periods of time. That's not an easy task and takes much commitment!
Another reason OTR drivers deserve appreciations is because they don't have the luxury of seeing their families at the end of the workday. Children, husbands and wives are a part while the driver is on the job. For families, this can be burdensome. The good news is technology allows truck drivers to interact with their family through Skype, FaceTime and other video chat platforms. Nonetheless, they are taking time away from their loved ones to fulfill their driving duties and keep our country moving forward. We thank them for this!
If it were not for professional drivers, the average individual wouldn't have the items they need and want. There would be no clothes, food, furniture, cars, boats, etc. If truckers didn't exist, you would not have access to necessary items. Every day trucks deliver to your neighborhood stores so you don't run out of the necessities that you need as a consumer for survival. When you buy groceries to cook a meal for your family, it was delivered by truck. When you flip on a switch in your home for electricity, a trucker was involved in that process. When you go to movies, or out to a restaurant, a driver undoubtedly hauled the things that make that night out possible. Isn't it nice to know the food, clothing, and shelter are there when you need it? Without trucks, America stops!
So when mid-September roles around this year, we hope you'll join all of us at Smith Transport in celebrating National Truck Driver Appreciation Week 2015. If you're a professional truck driver, thank you! And if you're thinking about becoming one and taking part in a solid career progression and all of the great, give us a shout at Smith Transport. Call 866-265-3718 or apply online. While you're at it, check us out on Facebook and Twitter!