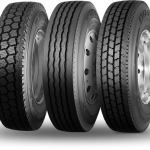 August 5, 2015 10:08 am
Comment
Hot weather can make any job tough. Particularly for truck drivers, Mother Nature's summer heat can stir up problems if we aren't prepared over the road. Today, your friends here at Smith Transport have a few summer safety truck driving tips!
We all know how important it is to keep our engines cool and fluids up to par on a hot summer day, but how often do you think about your tires? Quite literally where the rubber meets the road, ensuring that all eighteen tires are in good shape is absolutely key to a safe and successful haul.
Here are Smith's five quick tips to help prevent tire blowouts and stay off the shoulder this summer:
1.         Check Your Tire Pressure
This goes without saying, but we all know how easy it can be to miss a low tire. After all, there are plenty of them down there. Under-inflated tires are under far more stress than a properly inflated one, and they're much more prone to blowing out. On a steamy summer day, low tires have even more surface on the hot pavement and run far hotter than they should. Be sure to check your tire pressure on a regular basis.
2.        Take a Good Look at Your Tires
A severely rough-looking tire is dangerous and shouldn't be on the road. Before hitting the road, look closely at each tire for cracks, worn tread, nail or screw holes, and other damage. The heat of the road will only intensify the weakness of a damaged section of tire, so take a few minutes to check 'em out so you don't risk riding on a rough set of rubber.
3.        Don't Forget the Valve Stems
It's easy to make a passing inspection of a tire as you walk around, but check those valve stems and caps, too. Dry-rotted or stressed valve stems are a common source of air loss. If you have any metal valve caps on, consider replacing them with plastic ones. This will reduce the risk of having a cap stuck by rust or heat.
4.        Consider Nitrogen
Nitrogen inflation offers two great advantages over using regular air. Nitrogen does a better job of staying in the tires over time and it also keeps things cooler. If you're looking to keep hot summer tires in good shape, nitrogen may be a good option. Do your research and find out what's best for your driving job and equipment.
5.        Drive Carefully
Sure, you should always drive carefully. But the summer heat makes this especially important. The better you treat your tires, the better they will treat you and those around you. Keep in mind vacation and holiday traffic is an additional factor during the summer. Proper equipment maintenance, careful driving, and safe roads all go hand-in-hand!
These five tips will help keep America's roads safe and prevent tire blowouts, even in the hottest of months. Remember to keep an eye on your equipment and always be aware of your surroundings, and you'll be rolling cool no matter where your route takes you!
Looking for a "cool" company to drive for? Get your career in top gear and learn more about driving for Smith Transport (where our drivers own the company!)
Just give us a call at 866-265-3718 or click to apply online. While you're at it, check us out on Facebook and Twitter!