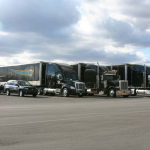 August 27, 2015 3:52 pm
Comment
At Smith Transport, we are always on the lookout for great tips and advice for our drivers and other trucking professionals out there. We figured it might be useful to share a few of our own ideas on making the most of your days on the road. With that in mind, here's what we are calling the top four tips for an effective day in the driver's seat.
1. Planning is Key
We all know driving time is carefully regulated. On top of that, the upcoming holiday travel season is soon to add even more traffic to the road. With limited hours allowed by federal regulations, it's important to plan ahead to make the most of your day. Check traffic patterns and potential choke points on your upcoming route. Look for convenient places to grab some grub along the way.
The more you plan, the better you can avoid delays, hit the necessary pit stops along the way, and meet deadlines.
2. Be Aware of the Weather
Along with planning, a cursory check of weather conditions is sure to keep you in the fast lane. If heavy storms are expected in the evening, try to get an early start so you can enjoy the rain and not stress about your schedule and traffic. Come winter if it's cold and icy, consider getting a later start when the sun has melted some of the nastiest snow and slush from the road.
3. Keep Breaks in Mind
Sure, we don't have to remind you that your required breaks are nice—and much needed—but how you use them is extremely important. You may spend some of your break waiting for your trailer to be loaded, getting cleaned up, and checking the condition of your rig. That's good reason to try to structure your breaks in a way that you can use them efficiently. After all, sleep should be the biggest part of your time out of the driver's seat.
4. Check Your Truck
Nothing delays a productive day like time spent in the shop or on the shoulder. Check your tire pressure and the conditions of your tires to make sure you don't experience a blowout when you least expect it. Check your oil and coolant levels to avoid costly mechanical breakdowns. Ensure that your lights are in working order to avoid costly tickets, and more importantly vehicle accidents.
So there you have it! Smith Transport hopes that taking a look at these four short driving tips will help you make the very most of your time over the road. Time is money, and smart truck drivers know how to optimize their days to meet both their bottom lines and top levels of safety and comfort.
________________________________
Looking to drive for a company where your career is top priority? Consider driving with the best – Smith Transport. Take a minute to apply online or contact us directly at 866-265-3718. While you're at it, follow us on Facebook and Twitter!