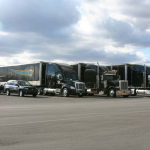 July 9, 2015 11:15 am
Comment
What makes people decide to get into the trucking industry? Maybe you've asked yourself this while debating whether or not you're interested in careers in the transportation field. Well, Smith Transport has the answers! Our drivers know that individual freedom, great salaries, and the liberating feeling of the open road are some of the top benefits of earning your livelihood on eighteen wheels. Read more to see for yourself!
Growing Industry with Multiple Opportunities
When it comes to truck driving, there are numerous options available. You have the freedom to choose the route best fit for you and your family. From company drivers to tanker drivers to dedicated positions, you can find plenty of opportunities for success.
Employment opportunities for those who enter the commercial trucking industry are far better than many other employment outlooks. According to the Bureau of Labor Statistics, trucking jobs are expected to grow by 11 percent over the next decade, mainly because the economy is expected to grow and the need for goods will also grow. It would be a smart, profitable move to begin a career in an industry that has a strong need for your talents and is expected to grow!
Salary and Benefits
One of the reasons drivers love the trucking industry is for the salary and benefits. For example, Smith Transport offers a base pay plus:
Monthly Bonuses
Stop Off Pay
Layover Pay
Detention Pay
Short Haul Pay
Unload Pay
You can also count on weekly or bi-weekly home time, benefits, paid orientation, and referral bonuses. Drivers also receive vacation pay and the opportunity to participate in a 401(k) plan.
Truck drivers also enjoy riding comfortably and in style! Smith offers chromed-out Peterbilts, Freightliners, and International Lonestars equipped with APUs and new trailers. Who couldn't love this?
The Open Road
For many who enter the trucking industry, the thought of life on the open road is enticing. It is true that many truck drivers spend long periods away from home, but they also enjoy some of the most beautiful scenery in the country. Imagine traveling along a mountain road, enjoying breathtaking views while getting paid to do so.
Truck drivers are often people who enjoy working independently and with solitude, enjoying the time in the cab of a truck. There's no worrying with multiple co-workers hovering over them. This gives them a sense of happiness and freedom.
Many drivers enjoy meeting new people in small towns where they deliver, as well. Traveling through various cities, they also have an opportunity to experience different local foods along the way. With exciting travel at your fingertips, working as a truck driver is unlike any other occupation.
The trucking industry is one of the most unique and fastest growing industries in the country. It's truly a fantastic career choice and getting better. Contact a Smith Transport recruiter today at 866.265.3718 or smith-recruiting@smithtransport.com to learn how you can become a part of this vital, rewarding, and exciting industry!
Get social with Smith Transport and follow us on Facebook and Twitter!