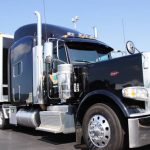 July 28, 2015 9:30 am
1 Comment
Being a successful truck driver involves more than driving down the road — there are multiple skills when it comes to being a top-notch driver. Drivers must deliver timely, friendly and safe service and these five skills can make that happen. If you have a few of the skills below, you should consider becoming a truck driver!
Excellent Communication – A good truck driver should have excellent communication and people skills. There must be no confusion between them and their dispatcher and they must be able to work well with customers to resolve any delivery or pick up issues. No matter what phase of the job, a driver will be in contact with people and needs to be able to get along well with others and successfully communicate. If you're a people person and enjoy interacting with others, you're off to a great start.
Good Navigation Skills – While modern electronics and GPS have made things easier in today's society, a trucker still needs to be able to navigate, particularly in the case of a larger truck, and be aware of roads that can and cannot be travelled. Even with electronics, being able to read maps well is important. As we all know, sometimes GPS's recalculate incorrectly. Knowing about compass direction and maps are key.
Responsibility – Truck drivers should also be reliable and responsible. Drivers must be constantly aware of all others on the road to help prevent accidents and mishaps. Safety is #1 at Smith Transport and we always encourage drivers and the community to be safe and aware at all times on the road.
Self-Motivated – As in many other fields, self-motivation is meaningful in a truck driver job; self-motivation helps drivers to perform at their best. Being motivated in your everyday job will ultimately result in a greater achievement and a better job overall. Motivation = a stable, successful and profitable career!
Organization – Another leading skill as a driver is organization. With the new Hours of Service regulations and other important factors in the trucking industry, paperwork and logs are needed. Aspects of the job always run more smoothly when organization is implemented.
Having basic mechanical skills is a bonus when it comes to being a truck driver. With drivers being on the road much of the time, it can be helpful to have basic mechanical skills and a thorough understanding of the operation of a Tractor Trailer and its equipment. With these skills, a trucker can identify issues and understand how to solve those issues. While not a necessity of the job, it can surely come in handy to have a basic knowledge of mechanics.
For the aspiring trucker, having a few of these skills is excellent to have. For experienced drivers, these skills can help to ensure a successful career, advancement and generally will make your day-to-day duties easier and more enjoyable.
If you're interested in becoming a driver at Smith Transport, we'd love to hear from you. APPLY HERE or give us a call at 866.265.3718. Don't forget to check us out on Facebook and Twitter!
One Response