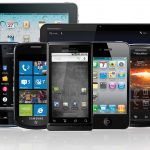 June 17, 2015 1:43 pm
Comment
Today, cell phones are used for a lot of other reasons than just calling and texting the people you know. At skyrocketing rates across the country, more and more people are incorporating their various devices into other parts of their lives. Truck driving professionals are no different. From finding the lowest price on a gallon of diesel, to sharing experiences with family and friends, all sorts of applications are making life on the road much easier.
How can a simple, free mobile app help you to have a more enjoyable and successful truck driving career? Check out these 5 apps for truckers we've put together just for you!
*Please remember to never use your mobile device while driving.
Everyone likes to save money. Now you can do it while on the road with the free Trucker Tools app. This app helps you find latest and lowest diesel prices, nearest truck stops, live traffic, turn-by-turn directions and current promotions on food, products and services at truck stops across the country. It also locates truck stops near a city, your current location, along an interstate, or at a specific exit — and provides directions. The database of truck stops powering this app is the most complete in the country and is updated daily. Fuel prices are even updated hourly.
MyDAT Trucker Services is a free app for truck drivers showing nearby truck stops, travel plazas, diesel prices, truck-friendly hotels and services, Wal-Marts, rest stops and CAT Scales – as well as loads from the DAT Extended Network – also seen on monitors in over 800 truck stops nationwide. The DAT Extended Network displays a subset of the millions of loads found annually on DAT Load Boards including TruckersEdge. Impressive!
Eating healthy can a challenge behind the wheel, especially when time and resources can be limited. With the FatSecret Calorie Counter app, drivers can look up nutrition information for foods found at most restaurants, scan barcodes for instant nutrition information on packaged foods, and generally track their total daily calories, fats, and carbs. If you're health-conscious, this is a must.
4.        iExit
Speaking of food, the iExit app is a great one to use when you start to feel hungry or thirsty before hitting the road for a stint. The app uses directional software to locate the next 100 exits ahead on your route and tell you what you can find there. Coffee shop? Redbox movie kiosk? Hotel? Local delicacies? The iExit app will advise you of where they are along your route!
5.        Avocado

Being away from home can be difficult anyone in a relationship. Keep your love life in balance with the Avocado app! It is basically like a Facebook account for couples. If you're occasionally long distance on the road, this is a great way to share private thoughts and messages with that special someone. You can send messages, pictures, and draw creative images. You can even use its calendar function to make sure you never forget birthdays or anniversaries (texting alone can't offer this!) It also helps you keep track of each other by showing when your partner's phone battery is getting low. That way you don't have to worry for their safety if you happen to be out of touch.
When you're at work across America, we hope one or two of these great applications can help to make your life more enjoyable. From the dinner table to the weigh station, these apps will keep you in the fast lane.
Speaking of the fast lane, is your career accelerating the way you want it to? If not, consider driving for Smith Transport! Not only are we driver-owned, we are one of the most respected carriers in the industry. Smith drivers are taken care of on and off the road!
Visit smithdrivers.com and contact a recruiter today:
Apply online HERE
Call our Recruiting Department – 866.265.3718
Don't forget to follow us on Facebook and Twitter!