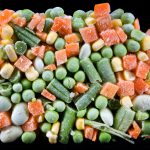 May 11, 2015 4:30 pm
Comment
Any truck driver who's ever been on the road for a day or two know the struggles of finding healthy food options. Truck stops and gas stations aren't necessarily known for their selections of fresh produce. One of the great ways to make sure you can have fresh vegetables and fruit on hand when you need them is to carry a mini freezer in the cab.
There are a wide variety of portable freezer options for your truck that will surely fit your preferences. You just have to do a little research to find what you like!
As useful as they are though, it's important to make sure that you don't just "freeze it and forget it" when it comes to what's inside your portable freezer. Even the most hearty of foods will eventually go bad in any freezer, so keep an eye on your fridge's contents. Thanks to the good people over at Freezerlabels.net, we'd like to share a great little graphic for recommended storage times. With this as your guide, we hope you'll make the most of your freezers – and your health!
So now that you have portable freezers and storage times top of mind, we can't forget the most important part – choosing healthy foods to enjoy on the road. We suggest always checking the nutrition labels to see how much sodium, fat and calories each item contains. Need ideas on what to eat? Check out Health.com's 13 Healthy Frozen Dinners.
Remember: keep an eye on what you put into your body and it will reward you in return. A healthy trucker is a happy trucker!
Interested in driving for an elite fleet with great pay and top-of-the-line equipment? Drive for Smith Transport! Driving for Smith means having job security, respect, and choices. Contact us today at 866-265-3718 or smith-recruiting@smithtransport.com.
Ready to apply? Click here!
Get social with Smith Transport and give us a follow Facebook and Twitter!