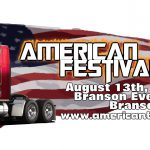 May 5, 2015 10:35 am
Comment
Ever feel like you could use a different, enjoyable event to attend during your off time on the road? If you're interested in truck driving and have three days to spare for fun this August, mark your calendars for a new event that's sure to interest any trucker…
Right in the middle of our beautiful country, the town of Branson, MO is putting on its first ever American Truckers' Festival! This three-day festival is all about America's unsung heroes: the truck drivers that make this country run.
From August 13 – 15, 2015, there will be all sorts of entertainment for those who appreciate big rigs. If you're eager to take your 18 wheels over to Branson this summer, first take a look at some of the itinerary events below.
On the first day of the festival, it's all about old school trucking. The crowd is invited to bring their own vintage trucks and show them off. There will be winners in several categories, so participants have a chance to proudly put a ribbon on their grille. In fact, the festival is putting together great prize packages!
Friday, August 14 will be the Search for America's Greatest Singing Truckers. Festival organizers are looking for at least 10 active drivers in order to really heat up the competition. The winner will even get a chance to join Magic Mirror Records in the recording room! That's worth singing a tune about.
Finally, there will be plenty of learning activities to improve your knowledge of the industry, including the latest trucker gizmos and gadgets you can "ooh and aah" over. Saturday may also offer one of country music's big names for the final night's performance – how exciting!
Admission to American TruckFest 2015 is free as long as you pre-register. How great is that? So if you have some free time to enjoy live entertainment, fun and inspiration this August, consider making a pit stop at the first American Truckers' Festival.
In the meantime, feed your love for truck driving by checking out Smith Transport. Smith Transport is an elite fleet with great pay and top-of-the-line equipment. It's a place where you can develop personal relationships with colleagues rather than being "just a number." You'll love it here!
Contact us today at 866-265-3718 or smith-recruiting@smithtransport.com or apply now.
Don't forget to follow Smith Transport on Facebook and Twitter!