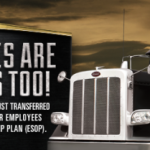 April 1, 2015 1:08 pm
Comment
Today, truck driving professionals are in high demand. This means that anyone looking into a career as a truck driver has plenty of great employment options to choose from. At Smith Transport, we recognize the value of excellent drivers, and that's why we are happy to announce a new benefit to driving for Smith – the Smith Transport Employee Stock Ownership Program (ESOP). That means that drivers at Smith Transport are literally in the driver's seat of their company!
As owner Barry Smith put it, "Employee ownership is the best direction for the future of Smith Transport. Sharing the success of the company with the employees is a great way to reward all of our dedicated employees, and it will serve as a great tool for driver recruitment and retention."
Trucking can be a demanding job, and without the hard work of our drivers, this company – and our country – would find itself stuck in the slow lane. We are happy to occupy our little piece of this essential industry and work hard to ensure our drivers feel that way, too. Part of the way we do that is by making sure our drivers earn great benefits and are well-compensated for their work. And there's nothing better than owning part of the company where you work. As Smith earns, you earn, too!
For those of you considering a new career in the transportation industry, Smith's ESOP is yet another fantastic reason to consider driving for Smith Transport. Your skills are in demand, and you're treated that way at Smith!
If you're curious about becoming a truck driver or want to make the switch to a company with your best interests at heart, get in touch with us! Check out Smith's truck driving opportunities on our website and contact us today to jumpstart your new career in 2015.
Visit smithdrivers.com and contact a recruiter today: