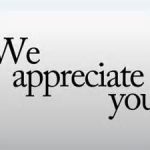 March 6, 2015 7:30 am
Comment
Everyone knows the phrase TGIF: Thank Goodness It's Friday! Well, this Friday, March 6th, Smith Transport has another thing to be grateful for- our drivers. That's right. In case you haven't heard yet, this Friday is National Employee Appreciation Day!
Today, truck driving professionals are in high demand. We are certainly lucky to have our wonderful drivers and we truly value their loyalty at Smith Transport. Trucking can be a demanding job, and without the hard work of our drivers, this great country would find itself stuck in the slow lane. From a tasty meal to that new phone in your pocket, if you have it, a truck driver brought it to you!
We are happy to occupy our little piece of this essential industry and we work hard to ensure our drivers feel that way, too. Part of the way we do that is by making sure our drivers are provided benefits, well-compensated, and appreciated for their work.
Across the trucking industry, you can see that truck drivers are increasingly appreciated. A recent survey conducted by ATA found that drivers earn well within the average salary for professionals in the U.S. The survey calculated driver pay from around the country, finding that the median annual pay for drivers ranged anywhere from $46,000 to over $73,000. Although pay may depend slightly on which routes you decide to drive and your specific duties, these numbers are hard to argue with. With the U.S. median household income hovering at around $53,000 per year, the survey shows that seven out of nine of the categories of drivers surveyed are paid at or beyond this median.
At Smith Transport, great pay is just one of the many ways we show how much we appreciate our drivers.
For those of you considering a new career on 18 wheels, all of this is fantastic news. Your skills are in demand, and more importantly, trucking companies across the U.S. are willing to pay in a way that reflects this trucker's market, particularly Smith Transport! When you drive for Smith, you'll probably feel like every day is National Employee Appreciation Day!
If you're curious about other driving tips or becoming a truck driver, get in touch with Smith Transport. Check out our truck driving opportunities on our website and contact Smith today to jumpstart your new career in 2015.
Visit smithdrivers.com and contact a recruiter today: