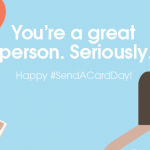 February 5, 2015 9:04 am
Comment
It seems like just yesterday we were celebrating the New Year, but January has come and gone. February is here and it's starting off as a cold one! Luckily, every February brings an annual holiday that helps warm up friends and family around the world. On this holiday, we like to send a card to someone we care about and let them know we're thinking about them. It's an opportunity to make their (and our) day a little nicer by soliciting a smile. What holiday is this, you ask? It's "Send a Card to a Friend Day" on Saturday, February 7th (and being on the road is no excuse not to participate!)
While another popular February holiday is also right around the corner, Valentine's Day, Send a Card to a Friend Day is not focused on romance. The whole idea of Send a Card to a Friend Day is pretty simple: send a card to a special friend(s) in your life. We all appreciate our friends, but we don't always express that. This holiday is an opportunity to take a moment to make their day!
Especially for truck drivers that spend a lot of time away from home, keeping up with loved ones can be a challenge. But if you're reading this, you're online. And that means you don't have any excuse for skipping Send a Card to a Friend Day. Just send an e-card! There are plenty of websites out there to help you send a short greeting. Best of all, they're free! Just search for "free e-cards" and you're on your way.
Say you're a truck driver that doesn't feel sending a nice note to your buddy is your style. We get it. So try a different angle- send a note to your significant other. Consider your partner, spouse, or whoever is your friend in some way. Look at it this way… you can score some major points a week ahead of Valentine's Day. That's gotta count for something!
The point is, it's nice to catch up with friends whenever you can and trucking along the highways doesn't mean it's not possible. Many people are concerned about starting a career as a truck driver because they're worried about being away from friends and family. However, in this modern era of phones and Internet availability nearly everywhere, keeping in touch has never been easier.
So whether you're a driver or not, be friendly for a few minutes and let a friend or loved one know that you're thinking about them by taking part in Send a Card to a Friend Day. And if you've been thinking of getting into truck driving in the future, rest assured that you won't have any problem staying in touch with the folks you care about, no matter where your travels take you.
Get it touch with Smith Transport because we're hiring truck drivers and want to hear from YOU! Check out our truck driving opportunities on our website and contact Smith Transport today to jumpstart your driving career on the road with us. Visit smithdrivers.com and contact a recruiter today: