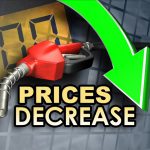 January 6, 2015 1:14 pm
Comment
Diesel prices have been on the slide, and that's great news for truck drivers who are getting back out on the road in 2015. For as long as big wheels have been rolling, fuel prices are something that every driver keeps a close eye on. The great news is that recent diesel prices have cascaded down, putting a lot of drivers in good spirits and giving potential drivers a tingle to reach for those keys!
But why the low diesel prices? How long will they stay down? While a lot of factors influence the costs and it's hard to predict exactly what may happen, recent trends in diesel prices paint an encouraging picture. Let's dig deeper…
According to the U.S. Energy Department, the average cost of on-highway diesel fuel has tumbled throughout the year. Long term, the downward trend looks pretty good, as well. Compared to a year ago, reports state the diesel prices are down between 51.5 cents and as much as 65.5 cents per gallon. If you're lucky enough to find yourself on the road along the Gulf Coast, where proximity to oil fields and refineries keeps fuel costs lowest, you can pick up a gallon of diesel for about $3.17 a gallon. Overall, diesel prices haven't been at this annual low since 2010.
Smith Transport is excited about these savings, and we bet you are, too! These savings are a huge boon for the trucking industry. Just a drop of a penny from the price per gallon can make all the difference. With prices falling 5, 10, 15 cents and more, this is fantastic news for drivers.
If diesel prices continue to show a steady decrease, it would stand to reason that many more people will consider mounting their rigs again and hitting the open road. Maybe you've considered getting on the road and starting a new career in the trucking industry? Well now is pretty good time to get into the game! With fuel costs running low–and all of the other perks of being a truck driver–it's the perfect time to get started.
Smith Transport is hiring drivers and we want to hear from YOU! Check out our truck driving opportunities on our website and contact Smith today to jumpstart your 2015 career.
Visit smithdrivers.com and contact a recruiter today:
"Like" Smith Transport on Facebook