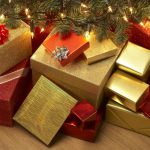 December 16, 2014 1:49 pm
2 Comments
For 52 weeks a year, America's truck drivers make sure that our most essential items are delivered safely and efficiently. November and December are particularly times to appreciate drivers because the holiday season wouldn't be possible without them.
Imagine going to the mall and seeing empty racks and shelves. Or consider the process of online shopping, an increasingly popular means of gift-buying. Without trucks, how would those items make it to their destination safely, securely, and on time? Some people have even suggested that truck drivers are the real Santa Claus!
We owe it to these professional men and women to brainstorm items that will make their life more comfortable and convenient. If you're still searching for that perfect gift for the truck driver in your life, you've come to the right place. Smith Transport has put together a list of the most relevant and unique gifts this holiday season for truck drivers:
1. Slow Cooker – A slow cooker is perfect for truck drivers looking to have healthy, home-cooked meals on the road. They're a great appliance for cooking on the road with minimal preparation and work. Just put the desired ingredients into the pot, turn it on, and drive for the day. How simple!
2. Compact Cooler – A cooler is another easy way for drivers to be able to eat healthy in the truck — not to mention, it also makes life on the road less pricey. All they have to do is plug it in to keep foods chilled on the road.
3. Portable Stove – Just because drivers do not have an oven at their disposal, that doesn't mean there aren't options for enjoying a hot meal. A portable stove can quickly and easily warm up food, making it a perfect way to heat things like stews, beans, soups, sandwiches, and more.
4. Personal Blender – Continuing with the food theme, a personal blender is a fantastic method to prepare smoothies and dips on the road. With an inexpensive travel blender, drivers can avoid unhealthy truck stop meals and have fun making their own creations.
5. Heated Blanket – A heated blanket can instantly give drivers comfort and warmth on a chilly night. Because drivers can experience many different temperatures in one day, a heated blanket is a great option in "On Mode" or just as a regular blanket to stay cozy.
6. Travel Tool Kit – It may not be tomorrow when a driver needs a set of tools, but it's always best to be prepared! This 39 piece general tool set covers all the basics and is extremely affordable.
7. Travel Mug – A travel mug for truck drivers will keep their favorite coffee hot and soft drinks cold all day on the road. You can't go wrong with this one!
8. Truck GPS Units – A truck-specific GPS is a spectacular gift for drivers, providing maps and traffic, specialized truck routing, customizable restrictions, and ultimately a little extra security on the road. There are several truck GPS manufacturers out there; just remember to research a unit made specifically for truck drivers.
9. Bluetooth Headset – A Bluetooth headset is a helpful item for staying in touch with friends and family on the road. It makes it simple–and legal–to talk to loved ones back home with just the push of a button.
10. Work coat, boots, gloves and/or socks – Truck drivers must be prepared for all types of weather, and quality clothing is a must. Warm, water-resistant coats, work boots, gloves and socks that provide protection and comfort can surely be put to good use this winter.
______________________
We hope you've enjoyed these holiday gift ideas for the truck driver on your shopping list. (Smith Transport does not endorse any of the above items. These are merely suggestions.)
Are you interested in driving equipment that's second to none, being part of an Elite Fleet, and developing personal relationships with colleagues rather than being "just a number"? If so, Smith Transport is the perfect home for your talents as a professional driver!
Visit smithdrivers.com and contact a recruiter today:
2 Responses