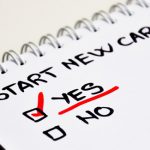 December 22, 2014 1:56 pm
Comment
2014 is wrapping up and the New Year is almost here! A new year is the perfect opportunity to reevaluate the past 12 months and decide what you want to change or improve. It's a time to reflect on what's worked and what hasn't, and to think about what can be done differently next year. Whether it's a personal or career goal, you can leave 2014 behind and start positive and fresh.
With that in mind, did you know one of the most popular New Year's Resolutions is getting a better job? If you're one of those who pledged to land a more rewarding job or earn more money, Smith Transport may just be the place to look!
Now is a great chance to learn more about truck driving, what our company has to offer, and how joining the Smith team can make a valuable impact on your life. We encourage you to begin your 2015 journey applying to drive for Smith for a couple of reasons…
First, think about your current job and ask yourself these questions:
Are you happy and treated well?
Do you feel valuable?
Are you making enough money?
Do you have good benefits?
Are you fully satisfied with the technology/equipment?
If you answered no to any of the questions above, Smith Transport as a YES solution!
Why You'll Be Happy Here
Smith holds a position in the market where we have access to large quantities of freight without the headaches and confusion of a large corporation. Our business is small enough that we operate in a team environment while we get to know each other personally, however; we are large enough to be a major industry player. We're part of a community where family values and friendly neighbors are the normal way of life, and the way we treat drivers directly reflects that normal way of life.
Why You'll Be Valued as a Truck Driver
A huge perk of being a truck driver is that your job is an extremely important one. Drivers transport goods and materials the public depends on every day: food, clothes, supplies, and everything in between. American Trucking Associations says that trucks carry more than two-thirds of the tonnage shipped in the U.S. As a driver, you are valuable and crucial to our nation's economy.
Why You'll Be Pleased with Our Pay
Great news – we've revamped our pay package to give our drivers more money! We know they work hard and we want to reward them by offering an improved pay package. Base pay, loaded or empty solos, is up to $.41 cpm. Drivers are also able to earn more money in our monthly bonus program, PLUS pay for stop off, layover, detention, short haul, vacation and 100% No Touch Freight. Wouldn't that be an excellent way to start off 2015?
Why You'll Love Our Benefits
Our truck drivers are our most precious cargo. That's why we offer awesome benefits for our employees and their families. If you make the positive choice to drive for Smith, you'll be healthier, financially stable, and save time and money down the road. Our benefits include medical/prescription, dental, vision and 401(k). You can also take advantage of company-paid benefits such as life insurance and short-term disability.
Why You'll Be Impressed With Our Equipment
There's one thing most all drivers agree on: it's great to ride in style. We're constantly looking at ways to improve the lifestyle on the road for our drivers, and this includes top-of-the-line equipment. Our tractors consist of Peterbilts and Freightliners, and we don't scrimp on the chrome. If you're ready to make the switch and ride in style in 2015, drive with us!
_______________________
A new year means a new career at Smith. The Smith Transport family will support your career goals; we're here to guide you, support you and motivate you along the way. Contact us today to jumpstart your 2015 truck driving career!
Visit smithdrivers.com and contact a recruiter today:
"Like" Smith Transport on Facebook