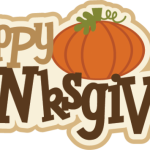 November 27, 2014 9:00 am
Comment
Thank You
Many of those that aren't associated or familiar with the transportation industry may not sit back and realize how everything comes together for Thanksgiving. The food, decorations and clothes we pack up to go visit our loved ones. This Thanksgiving, when you sit down with your family, take a moment to look around at everything on the table. It was all transported by professional drivers. Thanksgiving is made possible by truck drivers.
In fact, truck drivers haul nearly 10 billion tons of goods and materials to cities and towns across the nation every year. They deserve our respect not only during the holidays, but year-round. Plus, the day after Thanksgiving–better known as Black Friday–is one of the biggest shopping days of the year. This is another great opportunity to thank a driver for transporting goods this busy time of year.
Many drivers will be on the road this Thanksgiving Day, and we are so appreciative for their sacrifice. Join us and take a moment to appreciate drivers for their dedication. They keep our economy afloat and keep this beautiful country of ours moving forward.
Tips from TruckDriversMoneySavingTips
If you're a driver, this Thanksgiving article from TruckDriversMoneySavingTips may interest you. It includes Thanksgiving recipes, money saving tips, and other tips on family life, traveling, and safety. Click here to check it out.
A Message from ATA
The American Trucking Associations is asking the estimated 46.3 million motorists that are expected to take to the highways this Thanksgiving to drive safely and follow several simple tips in order to keep this a safe and joyous holiday season.
Their message emphasizes that the roads will be especially busy with people visiting family for Thanksgiving or starting their holiday shopping. Leave yourself a little extra time and space, slow down and be attentive when driving. Click here for more Thanksgiving driving tips.
_______
Smith Transport would like to formally THANK professional truck drivers for the holiday our country will enjoy this coming week, and the important role they play in our everyday lives. Happy Thanksgiving, everyone!
Ready to drive equipment that's second to none, be part of an Elite Fleet, and develop personal relationships with colleagues rather than being "just a number"? If so, Smith is the perfect home for your talents as a professional driver. Driving for Smith means having job security, respect and choices.
Visit smithdrivers.com and contact a recruiter today!