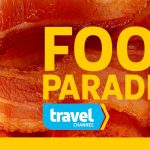 October 14, 2014 2:47 pm
Comment
One of the best parts of being a truck driver is the ability to explore the open road. How many careers allow a person to travel, meet new people and see the sort of sites most people only wish they could see? And thanks to shows like Travel Channel's Truck Stop Paradise Travel Guide, it's much easier for truck drivers to find where they can enjoy some of the best food this country has to offer while driving their route.
Advice to Truck Drivers From Other Truck Drivers
When a driver is on the road, one of the things they miss out on are home-cooked meals. Drivers can cook in their cab and swing through restaurants–however, sometimes you don't feel like cooking and there's only so much drive-thru a person can handle. Home-cooked-type food is available on the road, but scrolling through tons of restaurant reviews in order to find the best one is time consuming. So, we're here to help you out!
With inspiration from the Travel Channel, Smith Transport has the 411 on truck stop dining options that are highly recommended by drivers just like you! A driver wouldn't steer another driver wrong, so you know that these truck stops have to be the real deal. The Truck Stop Paradise episode features some of the most interesting, welcoming, and high-quality truck stop dining you'll find anywhere. These are the places that have not only been doing what they do for years, but they understand their clientele. They know that truck drivers are on the road for long periods of time and appreciate a delicious meal in a comfortable and friendly atmosphere, followed by available trucking amenities geared toward their needs.
Featured Truck Stops for Food Paradise:
Established in 1959, Lee Hi Travel Plaza in Lexington, VA is one of the oldest stops on the East Coast. Berky's Restaurant located in Lee Hi is the place to try sandwiches like The Trucker, featuring a 2 lb. patty stuffed with cheese, bacon and barbecue sauce.
Johnson's Corner in Johnstown, CO is known for their "World Famous Cinnamon Rolls," not to mention their many other baked delights. If you're in a hurry, you can order in advance and pick up your food to-go. If you have time to linger, take advantage of their trucker amenities. Johnson's Corner has been open 24 hours a day since 1952!
If you're passing through Iowa and could go for some serious comfort food, stop by Gramma's Kitchen for their award-winning pork tenderloin or their monster meatloaf, both of which were featured on Truck Stop Paradise. They say the inviting smells, friendly staff and welcoming environment are reminiscent of visits to Grandma's house.
In Bangor, ME, Dysart's Truck Stop and Restaurant is a spot that many consider their home away from home. Here, hungry travelers dig into wickedly good home-cooked comfort food made from recipes developed back in 1967 when the truck stop opened.
Known as the "Home of the Deep Dish Apple Pie," Omar's Hi-Way Chef Restaurant in Tucson, AZ is a favorite truck stop for transcontinental drivers and locals alike. In addition to apple pie, the menu is a classic truck stop fare with an emphasis on the 24-hour breakfast. WI-FI is free, too!
And that's just the tip of the iceberg – to see all of the featured establishments, check out the Truck Stop Paradise list HERE.
Knowing just the right places where you can enjoy some of the greatest food in the country – the sort of food created with you and people like you in mind – is just one more perk of being a truck driver. Every time you pull into a new truck stop, ready to meet new people and enjoy hearty, delicious foods, remember how great it is you aren't in a cubicle with a bland turkey sandwich!
Do you want to be part of an elite fleet and drive equipment that is second to none? Would you like to develop personal relationships with colleagues rather than being "just a number"? Smith Transport may just be the perfect home for your talents as a professional driver.
Ready to begin your truck driving career? Visit smithdrivers.com and contact a recruiter today.