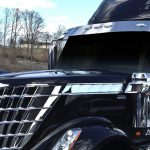 October 23, 2014 4:53 pm
Comment
Whether you just earned your CDL or you're looking to make a switch in your career, there are a few things you want to consider. You want to ensure what carrier you choose meets your career goals and personal goals. It's also important to find out what type of employee you are/want to be, and what makes you happy in your everyday job duties.
Before you begin your carrier research and make a truck driving decision, you should think about what suits your needs. Here are a few helpful tips from Smith Transport!
Career aspects you're looking for
Here are a few things to consider when choosing a trucking carrier:
Dispatched miles
Equipment
Pay packages

Base pay
Monthly bonuses
Stop off pay
Layover pay
Detention pay
Short haul pay
Unload pay
Vacation pay

Sign-on bonuses
Hometime
Benefits

Medical
Dental
Vision
Life insurance
Short term disability
401k

Opportunities for advancement / career path options
Referral programs & referral bonuses
Lease programs
What type of benefits, pay, miles, hometime, and other considerations listed above will affect you and your family, working environment, career opportunities, financial future, health, and overall lifestyle? You should carefully consider these various aspects when choosing a carrier to go with.
Type of worker you are
It's not all about pay and benefits—it's also about your personality and what you prefer in a career. As professionals in the working world, we all have our different approaches and mannerisms. There are a few questions you should ask yourself when choosing a trucking company:
If you're currently working, what do you enjoy most about your job? Least?
What do your co-workers and friends say you're great at?
Would you be satisfied with the unique hours of truck driving?
Would you enjoy seeing pretty scenery and being on the open road?
Would you like to visit different towns across the country?
Would you enjoy meeting new people?
Are you interested in advancing in your career?
Would you enjoy playing a meaningful and influential role as you help move America forward and provide our country with the things we need?
Overall, what kind of you truck driver do you want to be?
Asking yourself these questions will undoubtedly help you find the right carrier to fit your needs. Just like any job, remember to be realistic, optimistic, and always go in with an open mind!
Life as a driver for Smith Transport offers many unique advantages. Do you want to be part of an elite fleet and drive equipment that is second to none? Would you like to develop personal relationships with colleagues rather than being "just a number"? Smith Transport may just be the perfect home for your talents as a professional driver.
Ready to begin your truck driving career? Visit smithdrivers.com and contact a recruiter today.