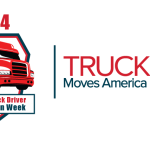 September 14, 2014 10:05 am
Comment
National Truck Driver Appreciation Week (NTDAW), September 14-20, is when America takes the time to honor all professional truck drivers for their hard work and commitment in tackling one of our economy's most demanding and important jobs. These 3.2 million professional men and women not only deliver our goods safely, securely and on time, they also keep our highways safe. Truck drivers keep America moving.
This September, American Trucking Associations (ATA) encourages all Americans to reflect and appreciate professional drivers that deliver our nation's freight safely and securely, and we couldn't agree more. During this annual celebration, Smith Transport wants to spread awareness and encourage others to focus on the importance of truck drivers. Motor carriers, shippers and other trucking related industries will host celebrations, as well.
"For 52 weeks a year, America's professional truck drivers make sure that our most essential items – food, fuel, medicine, clothing," said ATA President and CEO Bill Graves, "are delivered and lately they are doing so more safely and efficiently than ever before despite increasingly congested highways and ever more demanding logistics schedules. Their commitment is second-to-none and that's why we're asking that Americans take a few minutes to appreciate the effort these professionals put in every day."
Trucking Moves America Forward is showing their involvement in NTDAW this year. Their mission is to establish a long-term industry-wide movement to create a positive image for the trucking industry, to ensure that policymakers and the public understand the importance of the industry to the nation's economy, and to build the political and grassroots support necessary to strengthen and grow the industry in the future.
The 2014 NTDAW logo incorporates National Truck Driver Appreciation Week + Trucking Moves America Forward. The logo reflects not only appreciation for drivers, but also pride in this vital industry. Take a look:
Most Americans don't realize how essential trucks are to their lives until there is a severe weather or adverse condition that prevents trucks from delivering. But the fact is trucks are critical to our national and global economy, to our families, to our businesses, and so much more. When they stop moving, the country stops moving. By educating the public, Smith Transport can help do our part to ensure that the trucking industry remains the thriving industry it is today! Want some fun facts? Check out ATA's Trucking Industry Fact Sheet.
We value the men and women who safely deliver our nation's goods and keep our country moving forward. Smith Transport wants to thank all of our drivers for their commitment and dedication not only during National Truck Driver Appreciation Week, but year-round!
ATA began celebrating National Truck Driver Appreciation Week in 1988. Click here to learn more about NTDAW and ATA. You can also learn more about Trucking Moves America Forward here.
Life as a driver for Smith Transport offers many unique advantages. If you're interested in driving for Smith, contact a recruiter today!