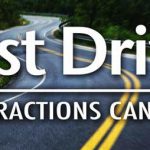 August 12, 2014 11:11 am
Comment
As a truck driver, you already know that nothing is more important than your full, undivided attention on the road ahead. What you may not know is how easily the human brain diverts its attention. Even when you think you're on the ball, all it takes is a small distraction to throw off your intended task at hand. This can cost you valuable moments of reaction time, which is not only troubling when behind the wheel of a vehicle, but for other travelers on the road. The dangers of distracted driving are critical–seeing that it's the result of a high number of vehicle crashes, it's evident this issue is a dangerous epidemic.
Distracted driving is any activity that could divert a person's attention away from the primary task of driving. All distractions endanger driver, passenger, and bystander safety. These types of distractions include:
Texting
Using a cell phone or smartphone
Eating and drinking
Talking to passengers
Grooming
Reading, including maps
Using a navigation system
Watching a video
Adjusting a radio, CD player, or MP3 player
Smith Transport understands that with tight schedules, hours on the road, and meeting delivery deadlines, drivers may feel the urge to multi-task and engage in activities such as clipping fingernails or adjusting the radio. It's in human nature to be tempted to handle other tasks during slow times to alleviate boredom, but the road is not the place to take care of non-driving functions. Safety is #1 at Smith Transport, so by raising awareness we can help ensure the safety of all drivers on the road.
Let's take a look at a few stats. A 2009 study conducted by the U.S. Department of Transportation shows that even the slightest distraction can have devastating results. It lists such mundane tasks as grooming and reaching for a drink, but lays new emphasis on the dangers of texting while driving. Because text messaging requires visual, manual, and cognitive attention from a driver, it's by far the most alarming distraction. The U.S. Department of Transportation is leading the effort to stop texting and cell phone use behind the wheel. They've banned texting and cell phone use for commercial drivers, held two national distracted driving summits, encouraged states to adopt tough laws, and launched several campaigns to raise public awareness about the issue.
The dangers of distracted driving can be even more compounded if drivers are fatigued. That's why our company emphasizes the importance of drivers taking adequate rest breaks and following the Hours of Service regulations prescribed by the Federal Motor Carrier Safety Administration. Drivers' reaction time stretches into infinity when they're tired. Add tasks such as fiddling with the radio or eating/drinking, it's the perfect recipe for disaster. Smart driving and meeting rest requirements are simply the best answers to increase safety on our roads.
At Smith Transport, we treat our truck drivers like family members. We want our drivers, their families and all other travelers to arrive happily and safely at their destination. We will work hard to give you the best tools in the industry, allowing you to stay protected and drive within the confines of the law. Smith Transport is dedicated to excellence!
Want to drive for Smith? Contact a Smith Transport recruiter today.
Click or call: