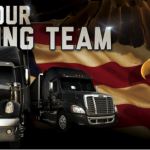 July 1, 2014 3:53 pm
Comment
On Friday, July 4th at 7:30 PM, Smith Transport's 'Elite Driving Team' car will be in the Daytona Firecracker 250!
The 4th of July racing weekend at the legendary Daytona International Speedway kicks off on Friday, July 4th at 7:30 PM with the Nationwide NASCAR Series. The race will air on ESPN2 and MRN/SiriusXM. The Daytona Firecracker 250 takes place on a day that honors America, and we couldn't be more thankful to also be honored at this time. We're fired up that the race will feature Smith Transport's "Elite Driving Team" car. Famed NASCAR driver Mike Wallace will be driving car #93 so be on the look for his car when you tune in! Take a look at this note to Smith Transport's Elite Fleet from driver Mike Wallace:
This is an exciting opportunity for Smith Transport and without each of you doing your part, this car would not be possible. We all play an important role in the continued success of Smith and feel that now is the time to really step up and thank our drivers. The role of a driver is one that is often seen as a thankless role. As the economy continues to grow and we are presented with more business opportunities, we know how important it is to not only to hire drivers, but to retain those drivers. We strive to take every opportunity that we can to show appreciation and gratitude to our Elite Driving Team. This car is a tribute to them and to their families that sacrifice to keep America rolling. Where would we be without them?  Let's take this time to really celebrate all they do! Please reach out and share this news with others as we show our excitement for this car, this race and most importantly Smith Transport truck drivers.
Let's get fired up! Don't forget to tune in to the Daytona International Speedway Firecracker 250 on Friday, July 4th at 7:30 PM. It will air on ESPN2 and MRN/SiriusXM. A BIG thanks goes out to everyone involved and we wish each of you a safe and happy 4th of July.
Interested in driving for Smith? Contact a Smith Transport recruiter today!
Click or call: