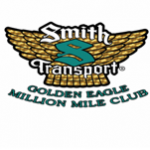 June 2, 2014 8:54 am
Comment
When Smith Transport honored the charter members of our Golden Eagle Million Mile Club this year, we wanted to do a lot more than just shower our high achievers with gifts and recognition! We also wanted to go a step further and try to find out what makes these elite drivers tick. We decided to see if we could discover what habits these million milers had that helped account for why they were so successful. It's quite impressive to get the one million safe mile level, and we found that many of these top drivers applied hard work and dedication in areas of their trucking career.
First, Smith Million Milers have a dedication to their profession. Our drivers always want to learn, and they take cues from what's happening on the road and are able to avoid hazardous situations based on their experience. The combination of experience and wanting to improve on that experience is an excellent formula for a successful truck driver. We were also amazed at the dedication our drivers have for getting the job done. They realize how important their contributions are — not just to our company, but to the American economic system as a whole. Our drivers know that their jobs are important and they give it an outstanding effort. This isn't just a job at Smith Transport–it's an exciting, stable career for these drivers (and you can follow this path with Smith Transport, too!)
We formally expressed our gratitude for a job well done when we recently inducted 52 of our drivers as charter members in our Golden Eagle Million Mile Club. We are extremely proud to announce that we had 46 drivers who had at least one million safe miles, 5 drivers with two million safe miles, and one of our drivers had successfully driven 3 million safe miles since he started with us in 1989! We truly appreciate those who put in the time and effort to drive safely and wanted to honor each of these million milers. Each recipient received a cash bonus, a personalized jacket, plaque and a variety of other gifts, as well as being recognized by CEO Barry Smith during a Driver's Appreciation Picnic.
Smith Transport is dedicated to excellence, in our equipment and in our employees, and we're proud to get to work with the industry's top drivers. Congratulations to our Million Milers!
Interested in driving for Smith Transport?
We would love for you to apply. When applying to drive for Smith Transport, you can choose from a number of open positions where we offer great pay and benefits packages. Smith Transport is a trucking company unlike any other. We treat our employees like family members and take pride in taking good care of everyone. If you're looking for a career that not only pays well, but is also enjoyable, drive for Smith Transport!
APPLY HERE or call 866-265-3718. Don't forget to like us on Facebook!