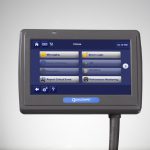 May 5, 2014 11:31 am
Comment
If you are looking for a company to drive for, there are many factors that you may want to take into consideration. Pay and benefits may be high on the list, but what about quality of life and quality of the workplace environment? Being a driver is not always an easy lifestyle, and sometimes the smallest advantages can have a big impact on your life on the job. You deserve high-quality tools that you can take advantage of on the road, and Smith Transport is dedicated to leveraging the available technology to give you the edge on the competition.
The Qualcomm Advantage
Smith Transport firmly believes that its technological advantage makes a big difference in the lives of our drivers every day. While other transportation companies may be spinning their wheels and worrying about fuel prices and profit margins, we were investing in our future by integrating Qualcomm in our equipment. With other trucking companies, you may find that you still have to do manual time sheets and dispute hours of operation with your employer, but with Qualcomm's MCP50 system, it's your dash-mounted assistant that takes care of it all.
Other advantages of Qualcomm in your Smith Transport truck include:
Helping you to focus on your driving instead of your paperwork
Reducing your costs and improving your efficiency
Effortlessly managing regulatory compliance and avoiding any fines
For a safer rig and more profitable runs, Qualcomm may just be the step that gets you there.
How Qualcomm Does It
So how does installing this little device on your dash improve the quality of your life on the road and deliver all these great benefits? There are many ways that Qualcomm simplifies life and adopts everyday tasks so that you can focus on other important jobs involved in the transportation industry.
Applications of the Qualcomm MCP50 include:
Hours of service: An on-board recorder that automates all of your driver logs as you drive
Fuel manager: Records your fuel consumption and alerts dispatch of potential problems with fuel efficiency
In-cab navigation: Get the perfect route to your destination without referring to your smartphone
Vehicle inspection report: Your dispatch will be informed of every issue with your rig as you drive (safety is #1 at Smith Transport!)
A Safer Ride
As mentioned, safety is first and foremost. When you are looking for a company to haul for, should it be any less of a consideration? Smith Transport is dedicated to our drivers' safety, and Qualcomm helps to ensure a safer ride.
There are three key ways that Smith Transport's investments in these systems help keep you and your truck safe:
Critical event reporting: If you are in an accident, you want emergency response as quickly as possible. Critical event reporting makes dispatching emergency services almost instant.
Analytics: The information that the system collects can help you become a safer driver by delivering specific feedback to correct driving habits that you may not have been aware of.
Vehicle accountability: No matter where you go in the country, whether you take a wrong turn or there is an unforeseen obstacle or dangerous condition ahead, you will get a heads-up from the MCP50 and your dispatcher.
The advantages of Qualcomm are as obvious as they are numerous. Visit qualcommon.com for more information about their technology.
Apply Today with Smith Transport
If you are called by the allure of steady work and the opportunity to hit the open road with Smith Transport, then applying now is your first step. When applying to drive for Smith Transport, you can choose from a number of open positions and we offer great pay and benefits packages. Smith Transport is a trucking company unlike any other. We treat our employees like family members and take pride in taking good care of all of our employees. If you're looking for a career that not only pays well, but is also enjoyable, drive for Smith Transport!
APPLY HERE or call 866-265-3718. Don't forget to like us on Facebook!