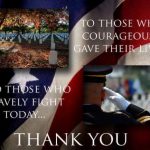 May 26, 2014 8:00 am
Comment
Typically, Memorial Day marks the beginning of the summer season. It's the time of year to kick off grilling hamburgers and hotdogs, enjoying outdoor activities and fun in the sun with family and friends.
But the traditions of this reverent holiday go far beyond backyard barbecues and sunscreen. Memorial Day came into existence following the Civil War to honor the fallen soldiers from both the Union and Confederate sides of America's most tragic and violent conflict. Originally called "Decoration Day," the early summer holiday officially became known as Memorial Day in the mid 20th century. Now, Memorial Day serves as a tribute to all servicemen and women that have lost their lives while protecting American liberty. The graves of fallen soldiers and military personnel are traditionally decorated with flowers on Memorial Day as a sign of respect. In many cities throughout the United States, parades are held showcasing current and former servicemen and women.
Amid the fun and excitement the Memorial Day Weekend, it is important to stop and remember the people who have given their lives while serving in the United States Armed Forces. These brave and selfless citizens have given us freedom and opportunity that our wonderful country can claim. Without their sacrifice, all of our comforts and luxuries would never have come to be. If you have the opportunity, thank an active or former serviceman or servicewoman this Memorial Day.
Smith Transport is a proud supporter of America's military forces. This Memorial Day, we want to encourage you and your family to pause your celebration just for a moment and commemorate those that lost their lives fighting for our way of life. We express our gratitude to all truck drivers and their families that have struggled to protect our freedoms! Smith Transport is pleased to honor our nation's heroes this holiday.
Click here to learn about the history of Memorial Day. Do you want to help increase awareness and respect? You can support the Memorial Day Foundation through various ways—click here to learn more.
We wish each and every one of you a safe and wonderful Memorial Day Weekend!
Interested in driving for Smith Transport?
We would love for you to apply. When applying to drive for Smith Transport, you can choose from a number of open positions where we offer great pay and benefits packages. Smith Transport is a trucking company unlike any other. We treat our employees like family members and take pride in taking good care of everyone. If you're looking for a career that not only pays well, but is also enjoyable, drive for Smith Transport!
APPLY HERE or call 866-265-3718. Don't forget to like us on Facebook!